New Gear Motors Mesh with High Torque Applications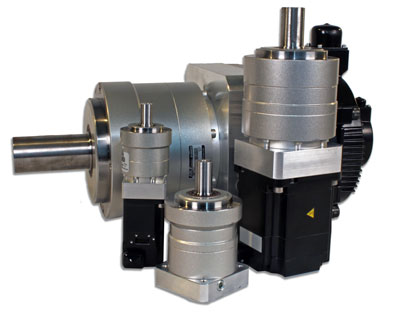 Waukegan, Ill. - The Drives & Motion Division of Yaskawa America, Inc. announces the release of a full line of gear motors based on its Sigma-7 servo motors. The new line brings precise Yaskawa servo motion to a wider variety of automation applications than ever before, especially to uses which require high torque at low output speeds.
A new set of gearheads have been designed to pair precisely with every servo motor in the full Sigma-7 range, creating complete gear motor solutions rated from a low of 50 watts to as high as 15 kilowatts. Five different gear ratios are available, ranging from 3/1 to 50/1. "Using a Yaskawa gear motor gives you the best of both worlds," said Bryan Knight, product manager for the company's gear motor line. "You have the opportunity to match the performance characteristics of a Yaskawa servo system to a wider range of mechanical requirements than ever before. At the same time, you don't need to sacrifice the precision and reliability that you've come to expect from Yaskawa."
Yaskawa created the new line as an alternative to bolting an aftermarket gearhead onto an existing servo motor. Yaskawa gearheads are perfectly matched with their companion servo motors in mounting conventions, coupling mechanics and output characteristics. Each is custom assembled, balanced and factory tested at Yaskawa's facility in Buffalo Grove, Illinois, and includes a full Yaskawa factory warranty.
Yaskawa's tradition of manufacturing quality is reflected in each gearhead's mechanical design.
Precision helical gearing with a 40% greater tooth surface area for notably smoother, quieter and more accurate operation
An enhanced system of bearings, including 45% larger planet bearings for guaranteed alignment, higher stiffness, greater load capacity and longer life
Balanced, concentric shaft couplings to minimize vibration during high speed operation and reduce the inertia of the gear motor system
Documented performance, including 100% inspection of all gear motors and a report on noise level, vibration, backlash, accuracy and drive back torque
The Buffalo Grove facility maintains a complete supply of gearhead and servo motors in stock, assuring quick turnaround for assembly of any gear motor configuration in response to customer need.

About Yaskawa
Yaskawa America's Drives & Motion Division manufactures industrial automation equipment, including variable speed drives, servo systems and motion controllers, low-voltage industrial controls and spindle drives and motors. The company's Motoman Robotics Division makes industrial robots that can weld, assemble, cut and handle goods for manufacturers.
Yaskawa products are used in a wide variety of industries, including packaging, automotive, building automation, pharmaceutical, machine tool, material handling, metal forming, solar, plastics, rubber, and textiles. Yaskawa America, Inc. employs more than 1,000 people in its headquarters in Waukegan, IL, its manufacturing facilities in Buffalo Grove, IL and Oak Creek, WI, and in offices across the United States. For more information about SigmaLogic7 Compact and other Yaskawa products visit our website at www.yaskawa.com.
Company Contact:
Tim Kutcher, Manager, Marketing Communications
Tel: 847-887-7318