New! Fast, Powerful Motoman MPK50 Robot Provides High-Speed Packing with Superior Performance, Reliability
Dayton, Ohio — Motoman's fast and powerful 4-axis MPK50 robot with dynamic, next-generation DX100 controller offers superior performance and reliability in a wide variety of packing applications. The MPK50 robot features a 50 kg (110.3 lb) payload and a wide 360-degree work envelope, combined with best-in-class motion, speed and wrist ratings. A slim manipulator design enables it to reach into confined spaces, reducing cycle time and improving system productivity.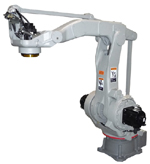 The flexible, high-speed MPK50 robot is floor mounted and has a 1,668 mm (65.7") vertical reach, 1,997 mm (78.6") horizontal reach, and ±0.5 mm (0.02") repeatability. Only 1,014.5 mm (39.9") wide, the streamlined MPK50 has a minimal interference radius, which allows it to work in close proximity with conveyors and other equipment. An existing internal pathway (from the robot base to the wrist) facilitates addition of a fieldbus cable for DeviceNet gripper control.

The robot arm is rated IP54 with an IP67 wrist; an IP65-rated body is available as an option. An optional, easy-to-use vision system allows the MPK50 to handle a wide variety of randomly oriented product.

Using patented multiple robot control technology, Motoman's DX100 controller easily performs multiple tasks and controls up to eight robots (72 axes), I/O devices, and communication protocols. Featuring a robust PC architecture with unmatched memory capacity, the DX100 uses a Windows® CE programming pendant with color touch screen. The energy-saving DX100 features faster processing speeds for smoother interpolation, advanced robot arm motion, built-in collision avoidance, quicker I/O response, and accelerated Ethernet communication. Its extensive I/O suite includes integral PLC and HMI pendant displays, 2,048 I/O and a graphical ladder editor that can provide system level control. The DX100 supports all major fieldbus networks. It is compliant to ANSI/RIA 15.06-1999 and other relevant ISO and CSA safety standards.

Motoman is a wholly owned subsidiary of Yasakawa Electric Corporation, a worldwide leader in mechatronics and robots. We provide world-class robotic automation solutions for a wide variety of applications including arc and spot welding, assembly, coating, dispensing, material cutting, material removal, picking, packaging, palletizing, machine tending, press tending and other general material handling applications.

Source:
Motoman Inc.
Sally Fairchild
(937) 847-3202