New EX Series – Baumer Quality at Low Prices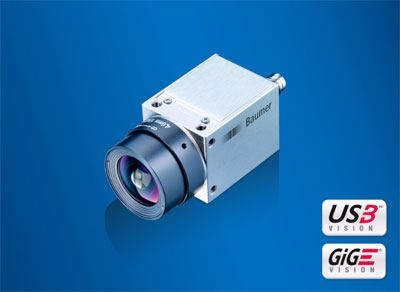 The new industrial cameras of the Baumer EX series focus on essential standard-compliant basic functions and therefore are ideal for varied typical machine vision applications. Integrating the latest generation of CMOS sensors in their robust metal housing, they provide long-term stability in application designs. With resolutions from VGA up to 2 megapixel and up to 217 frames per second, the cameras are available with both Gigabit Ethernet and USB 3.0 interface to meet many resolution and bandwidth requirements in the same form factor.
A size of 29 x 29 mm with M3 mounts at each side allows for easy and cost-efficient installation with maximum flexibility even in cramped space. Thanks to efficient thermal design, the camera endures a wide housing temperature range up to 65 °C to match ever higher temperature requirements. Cost-efficient CS mount lenses will cut down on system cost. C-mount compatibility is provided via an optional adapter.
Camera models featuring USB 3.0 interface allow for single-cable solutions and easy integration by plug & play. GigE Vision and USB3 Vision standard compatibility ensures maximum flexibility when implemented in existing installations.
About Baumer Group
The Baumer Group is one of the worldwide leading manufacturers of sensors, encoders, measuring instruments and components for automated image-processing. Baumer combines innovative technologies and customer-oriented service into intelligent solutions for factory and process automation and offers an unrivalled wide technology and product portfolio. With around 2,300 employees and 38 subsidiaries in 19 countries, the family-owned group of companies is always close to the customer. Baumer provides clients in most diverse industries with vital benefits and measurable added value by worldwide consistent high quality standards and outstanding innovative potential.
Company Contact
René Imhof, Marketing Manager
Tel: +41 (0)52 728 17 10