New Energy Efficient Actuators from Rexroth
Electromechanical Actuators from Rexroth offer Energy Efficiency, Sustainability

Two new actuators from Rexroth, the Electromechanical Cylinder (EMC) and the eLINE Compact Modules, offer quick delivery, energy savings to contribute to sustainable manufacturing efforts.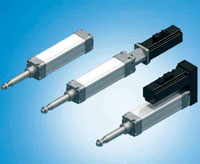 (Charlotte, NC – www.boschrexroth-us.com) With its new Electromechanical Cylinder (EMC) and eLINE Compact Modules (eCKK and eCKR), Rexroth contributes to new energy-saving electromechanical actuators to assembly, material handling and packaging applications. The new actuators are two representative products from Rexroth's 4EE Initiative—our corporate commitment to energy-efficency and sustainable manufacturing. (4EE = For Energy Efficiency).

Electromechanical Cylinder (EMC)
Designed to provide high-thrust and speed capability in applications traditionally using hydraulic or pneumatic cylinders, the Electromechanical Cylinder EMC contains a precision-rolled ball screw actuator and stainless steel thrust rod to achieve high positioning accuracy and repeatability while eliminating stick-slip effect. The low-maintenance drives are highly efficient, using energy on demand—thereby reducing energy costs and offering an environmentally friendly alternative versus more traditional solutions. (Fluid power systems, for example, generally require continuous power to maintain operating pressure.) The broad EMC product range offers stroke lengths up to 1500 mm, thrust forces up to 21000 N, and speed capabilities up to 1.6 m/sec, letting users specify the perfect combination of positioning accuracy, axial thrust power, torque and speed for a given application. An online EMC configurator makes it easy to configure, select and specify the appropriate EMC, and an industry-best lead time of three weeks shortens delivery and installation time.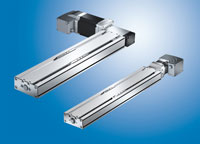 eLINE Compact Modules (eCKK/eCKR)
The eLINE Compact Modules (eCKK and eCKR) offer energy savings and high-performance at the light end of the spectrum through intelligent substitution of the light-weight aluminum eLINE Ball Rail System as its internal guide mechanism. The eLINE Modules are available as the eCKK ball screw driven version and the eCKR belt driven version, in profile sizes of 90 and 110mm. Identical dimensionally to Rexroth's popular standard Compact Modules, the lighter weight of the eLINE modules offers substantial energy savings in multiple-axis configurations, because it takes less energy to move lighter weight components. Additional savings come from the energy-on-demand nature of Rexroth's electromechanical systems: The eLINE modules require energy only during execution of the move profile, saving additional costs compared to systems consisting entirely of air-powered actuators.

An available stepper motor with integrated positioning control makes the eLINE Modules easy to program and start up, while Rexroth camoLINE connectivity facilitates precise alignment and easy connection of additional axes and the user's load. 3D Models for each version and size are configurable in Rexroth's online 3D CAD Generator. eLINE Compact Modules are pre-lubricated at the factory and can operate for up to 10,000km without relubrication. With 5-day lead times and extremely competitive pricing, the new eLINE modules from Rexroth are an ideal sustainable solution for small handling, medical and packaging applications with loads of up to 60kg.