New Educational Resource Kit Focusing on Lean Production and Automation Now Available from Bosch Rexroth
Latest in the Rexroth Resource Kit series provides case studies, technical papers, software tools and web resources to help manufacturers and machine builders incorporate lean principles into their production solutions.
Bosch Rexroth has added a new Lean Production and Automation Insights Kit to its popular educational resource kit series.
Drawing on a wealth of expertise covering both automation technology and best practices for implementing lean techniques in a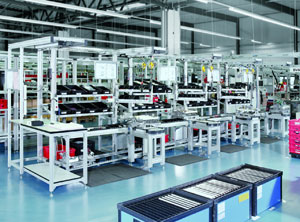 manufacturing environment, this new kit will help machine builders, system integrators and manufacturing end-users uncover wasted time, effort and resources within their operations and develop solutions to help them become more lean.
Packaged on a USB drive, the kit combines documents and resources loaded on the drive with links to useful technical information and planning tools on the Bosch Rexroth website.
The kit's materials are drawn from Bosch Rexroth's extensive library of customer application case studies, expert technical papers, current product brochures, links to state-of-the-art engineering and design tools, and the company's latest videos -- carefully selected and combined in one convenient digital package.
The Lean Production and Automation Insights Kit includes:
Lean production and automation: How to find the right mix -- A new Rexroth Technical Paper that explores how lean principles are used to identify and eliminate waste, and provides a detailed decision matrix to help determine the right level of automation for any production process.
Lean Guidebooks -- Multiple, detailed books addressing lean production topics such as ways to optimize assembly operations, ergonomics in manual production and efficient material transport.
Lean Manufacturing Podcasts – Quick links to Bosch Rexroth's comprehensive, informative 15-part podcast series with interviews and insights from leading independent experts in lean production.
Expert Software Tools -- Including MTpro, Rexroth's exclusive design software for manual production systems, conveyors and aluminum structural framing, plus free downloadable 2D and 3D CAD models.
Extensive Product Literature -- Links to the latest Rexroth literature used in lean production environments, including manual production systems, tightening and assembly tools, linear motion and assembly technology products and more.
This latest kit complements the existing array of Resource Kits covering mobile technology, factory automation, linear motion and mechatronics, packaging and printing and industrial hydraulics topics. All the Resource Kits are free to order from Bosch Rexroth.
For more information please visit www.boschrexroth-us.com/resourcekits.
About Bosch Rexroth
Economical, precise, safe, and energy efficient: drive and control technology from Bosch Rexroth moves machines and systems of any size. The company bundles global application experience in the market segments of Mobile Applications, Machinery Applications and Engineering, Factory Automation, and Renewable Energies to develop innovative components as well as tailored system solutions and services. Bosch Rexroth offers its customers hydraulics, electric drives and controls, gear technology, and linear motion and assembly technology all from one source. With locations in over 80 countries, more than 36,700 associates generated sales revenue of approximately 5.7 billion euros ($7.6 billion) in 2013.
About Bosch
The Bosch Group is a leading global supplier of technology and services. According to preliminary figures, its roughly 281,000 associates generated sales of 46.4 billion euros ($61.6 billion) in 2013 (Note: due to a change in the legal rules governing consolidation, the 2013 figures can only be compared to a limited extent with the 2012 figures). Its operations are divided into four business sectors: Automotive Technology, Industrial Technology, Consumer Goods, and Energy and Building Technology. The Bosch Group comprises Robert Bosch GmbH and its more than 360 subsidiaries and regional companies in some 50 countries. If its sales and service partners are included, then Bosch is represented in roughly 150 countries. This worldwide development, manufacturing, and sales network is the foundation for further growth. In 2013, Bosch applied for some 5,000 patents worldwide. The Bosch Group's products and services are designed to fascinate, and to improve the quality of life by providing solutions which are both innovative and beneficial. In this way, the company offers technology worldwide that is "Invented for life."
In the U.S., Canada and Mexico, the Bosch Group manufactures and markets automotive original equipment and aftermarket products, industrial drives and control technology, power tools, security and communication systems, packaging technology, thermotechnology, household appliances, healthcare telemedicine and software solutions.