New! Economical Motoman MH5 and MH5L Robots: Ideal for High-Speed Material Handling, Assembly and Packaging
Dayton, Ohio — Compact, powerful and economical, Motoman's new six-axis MH5 and MH5L robots require minimal installation space and offer superior performance in small part handling applications such as assembly, machine tending and packaging, as well as dispensing and other tasks. Internally routed cables and hoses maximize system reliability, reduce interference and facilitate programming. The MH5 and MH5L robots yield extraordinary production results while requiring minimal capital investment.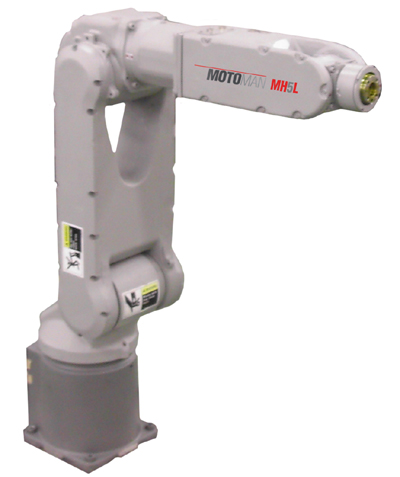 The MH5 model features a 706 mm (27.8") reach and offers the widest work envelope in its class. When a larger work envelope is required, the MH5L model provides an 895 mm (35.2") reach. These robots feature a 5 kg (11 lb) payload, but adjust their performance based on the load they are carrying. This allows the robots to be used effectively for payloads as low as 1 kg. The MH5 and MH5L robots have brakes on all axes and can be floor-, wall-, or ceiling-mounted for layout flexibility. The small footprint and minimal interference radius (179 mm/ 7") maximize floorspace utilization.

The MH5 and MH5L robots use Motoman's dynamic, next-generation DX100 controller that includes patented multiple robot control technology to easily handle multiple tasks and control up to eight robots (72 axes), I/O devices, and communication protocols. Featuring a robust PC architecture with unmatched memory capacity, the DX100 uses a Windows® CE programming pendant with color touch screen. The energy-saving DX100 controller features faster processing speeds for smoother interpolation, advanced robot arm motion, built-in collision avoidance, quicker I/O response, and accelerated Ethernet communication. Its extensive I/O suite includes integral PLC and HMI pendant displays, 2,048 I/O and a graphical ladder editor that can provide system level control. The DX100 controller supports all major fieldbus networks. It is compliant to ANSI/RIA 15.06-1999 and other relevant ISO and CSA safety standards.

Motoman is a wholly owned subsidiary of Yasakawa Electric Corporation, a worldwide leader in mechatronics and robots. We provide world-class robotic automation solutions for a wide variety of applications including arc and spot welding, assembly, coating, dispensing, material cutting, material removal, picking, packaging, palletizing, machine tending, press tending and other general material handling applications.

Source:
Motoman Inc.
Sally Fairchild
(937) 847-3202