New distributor signings at Automate 2019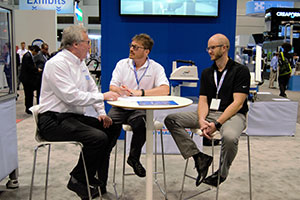 Toshiba Machine partner, TM Robotics, welcomed three new partners to its distributor network at Automate 2019. Production Components Inc (PCI), BlueBay Automation and Global Manufacturing Incorporated (GMI) officially signed distributor contracts at the show, which was held on April 8-11, 2019 at McCormick Place, Chicago.
Joining TM Robotics' distributor network allows partners to supply Toshiba Machine's extensive SCARA, cartesian and six-axis robot ranges to automation end users across North America. The growth in the North America market reflects the increasing need for high speed, budget friendly industrial robots — particularly in a nation contending with a labor shortage.
PCI has operated in New England since 1977. The company has represented some of the biggest manufacturers in the field of assembly, automation and production and welcomes TM Robotics as its provider of industrial robots from Japan.
"There is a labor shortage across New England that is making automation a necessity," explained Scott White, president of PCI. "This affluent area brings with it a higher cost of living, which means often means that low paying jobs, like assembly and production, simply aren't filled. To overcome workforce shortages, this deal will allow us to integrate TM Robotics' SCARA, cartesian or six-axis robots into our customers' production lines."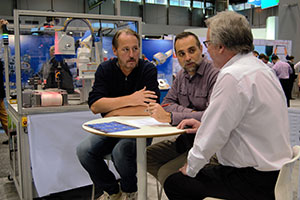 BlueBay Automation, based in Nashville Tennessee, supplies motors, human machine interfaces (HMIs) and gearboxes, among other automation parts. While BlueBay Automation already supplies collaborative and specialist arc welding robots, there is a group of customers that BlueBay is not accessing — those that needed high speed industrial robots.
"This new business alliance opens an entire new market for us," explained Pierre de Giorgio, President at BlueBay Automation. "Bringing together our existing network of automation suppliers, we will be able to package TM Robotics' SCARA robots with flexible feeders, vision systems or other solutions, so that 90 per cent of programming integration is done. Our customers are after the complete automation package and now, we can provide it."
These two new partnerships follow BCS Motion and Heitek joining the TM Robotics distributor network at the Assembly Show last October, held at the Rosemont Exhibition Centre. With the addition of these four partners during the past 6 months, TM Robotics is continuing to expand its already extensive sales and technical support coverage throughout North America.
About TM Robotics
TM Robotics has installed thousands of robots in factories throughout the world, including North and South America, India, Russia, Europe, the Middle East, Africa and Australia. Many of the top manufacturing companies depend on TM Robotics' product offerings for their reliability, performance, and overall value.
In partnership with Toshiba Machine, TM Robotics is the only company that offers a comprehensive range of all three categories of robots; 6-axis, SCARA, and Cartesian. These are designed and built in-house.
TM Robotics delivers cutting-edge solutions, training, and support services for industrial and commercial applications.