New DENSO Videos on YouTube Feature World's Fastest 6-Axis Robot, Ice Cream-Serving Robot
LON

G BEACH, Calif. — DENSO Robotics announced that two new videos are now available on its YouTube channel at www.youtube.com/densorobotics and also on the company website at www.densorobotics.com/applications.php.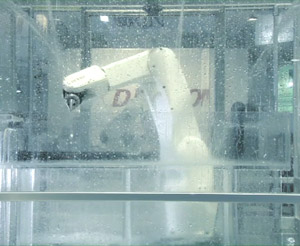 One of the videos introduces DENSO's new, advanced-design VS-Series six-axis articulated robots, the world's fastest in their class. The other video shows an ultracompact DENSO VP-Series five-axis articulated robot serving ice cream in an automated Robofusion Ice Cream kiosk.

"These videos spotlight some of the most outstanding features of our new VS-Series and VP-Series robots," said Peter Cavallo, robotics sales manager, DENSO Sales California. "The new VS-Series robots are not only the world's fastest in their class, they can operate in harsh, wet environments. And our VP-Series robots are compact enough to fit into very small spaces."

DENSO is the world's largest user of small assembly robots, with more than 16,000 DENSO robots designed and used in its own manufacturing facilities. More than 60,000 DENSO robots are used in other companies worldwide. DENSO Robotics offers a complete line of robots, controllers and software covering a wide range of applications.

DENSO Corporation, headquartered in Kariya, Aichi prefecture, Japan, is a leading global automotive supplier of advanced technology, systems and components in the areas of thermal, powertrain control, electric, electronics and information and safety. Its customers include all the world's major carmakers. Worldwide, the company has more than 200 subsidiaries and affiliates in 35 countries and regions (including Japan) and employs approximately 120,000 people. Consolidated global sales for the fiscal year ending March 31, 2011, totaled US$37.7 billion. Last fiscal year, DENSO spent 9.3 percent of its global consolidated sales on research and development. DENSO common stock is traded on the Tokyo and Nagoya stock exchanges.

In North America, DENSO employs 13,000 people with consolidated sales totaling US$6.4 billion for the fiscal year ended March 31, 2011.