New DENSO Robotics Product Catalog
LONG BEACH, Calif. — DENSO Robotics has announced a new product catalog featuring the company's lineup of small assembly robots, with reaches from 350 to 1,300 mm, payload capacities up to 20 kg and repeatability to within ±0.015 mm.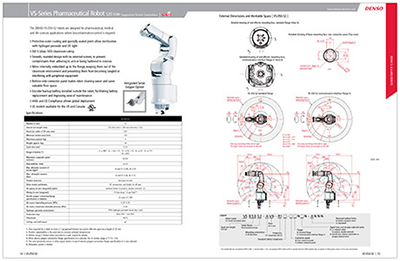 "We're proud to offer the industry's widest range of small industrial robot arms," said Peter Cavallo, robotics sales manager, DENSO Products & Services Americas, Inc. "Our new catalog consolidates information about all our products in a single place and makes it easily accessible."
The 52-page publication, which is available as an interactive online version or download at www.densorobotics.com/catalog, offers detailed descriptions, specifications and technical drawings of each of DENSO's four-axis SCARA and five- and six-axis articulated robots, including its latest VS-Series pharmaceutical cleanroom model.
Also covered are DENSO robot controllers, which feature a cooperative robot motion function that allows precise motion coordination of a master robot and up to three slave robots.
DENSO is the world's largest manufacturer — and user — of small assembly robots, employing over 17,000 of its robots in its own facilities. Over 77,000 additional DENSO robots are used by other companies worldwide.
The compact, high-speed robots are used in traditional manufacturing sectors, as well as in advanced-technology applications in the medical, pharmaceutical and life sciences industries.
About DENSO Corporation
DENSO Corporation, headquartered in Kariya, Aichi prefecture, Japan, is a leading global automotive supplier of advanced technology, systems and components in the areas of thermal, powertrain control, electronics, information and safety. Its customers include all the world's major carmakers. Worldwide, the company has more than 200 subsidiaries and affiliates in 38 countries and regions, and employs more than 150,000 people. Consolidated global sales for the fiscal year ending March 31, 2016, totaled US$40.2 billion. Last fiscal year, DENSO spent 8.8 percent of its global consolidated sales on research and development. DENSO common stock is traded on the Tokyo and Nagoya stock exchanges.
In North America, DENSO employs more than 22,000 people at 30 consolidated companies and affiliates, including 25 manufacturing facilities. In the U.S. alone, DENSO employs more than 14,000 people. DENSO's North American consolidated sales totaled US$9.9 billion for the fiscal year ending March 31, 2016.