New DENSO Robot Video on YouTube
DENSO Robotics announced that a new robot video is now available on its YouTube channel at www.youtube.com/densorobotics and also on the DENSO Robotics website at www.densorobotics.com/applications.php.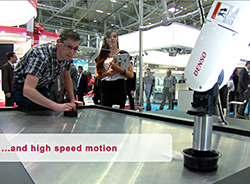 The video, which features live demonstrations from the DENSO booth at Automatica 2012 in Munich, showcases DENSO's latest technology. Included are the company's new VS-Series six-axis articulated robots — the world's fastest in their class — as well as its next-generation RC8 controller. The RC8 controller offers advanced communication features and expanded functionality, yet is in turn the world's smallest in its class, with a footprint of only 11.75 x 18.00 inches and a height of only 3.75 inches.
"This video is a great way of letting customers see some of the most outstandingfeatures of our robots in action," said Peter Cavallo, robotics sales manager, high DENSO Sales California. "It not only shows them the high speed of our new VS robots but also their high precision."
Among the video's highlights is a new VS-Series robot playing air hockey against a human opponent, showing the quick "reflexes" of a high-speed robot integrated with a high-speed vision system.

In another demonstration, two VS robots synchronize their movements to keep a toy slot car moving from one constantly alternating section of airborne track to another without letting it run off the edge. The robots show how DENSO's b-CAPTM binary controller access protocol enables them to make use of real-time path planning and thus respond instantly to changing environmental or process conditions.

DENSO is the world's largest user of small assembly robots, with more than 16,000 DENSO robots designed and used in its own manufacturing facilities. More than 60,000 DENSO robots are used in other companies worldwide. DENSO Robotics offers a complete line of robots, controllers and software covering a wide range of applications. For more information, visit www.densorobotics.com.
DENSO Corporation, headquartered in Kariya, Aichi prefecture, Japan, is a leading global automotive supplier of advanced technology, systems and components in the areas of thermal, powertrain control, electric, electronics and information and safety. Its customers include all the world's major carmakers. Worldwide, the company has more than 200 subsidiaries and affiliates in 35 countries and regions (including Japan) and employs more than 120,000 people. Consolidated global sales for the fiscal year ending March 31, 2012, totaled US$38.4 billion. Last fiscal year, DENSO spent 9.5 percent of its global consolidated sales on research and development. DENSO common stock is traded on the Tokyo and Nagoya stock exchanges.
In North America, DENSO employs more than 13,000 people with consolidated sales totaling US$6.2 billion for the fiscal year ending March 31, 2012.