New DENSO Robot Catalog
target="_blank" href="http://www.robotics.org/contentClick.cfm?content_link_id=1053">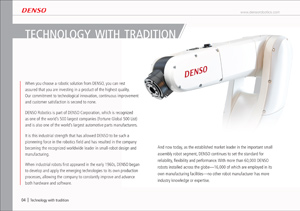 DENSO announced a new 2011 product catalog featuring the company's entire line of compact, high-speed industrial robots. The 62-page catalog, which can be downloaded as a PDF from www.densorobotics/catalog (2.39 MB), contains detailed descriptions, specifications and technical drawings of all of DENSO's four-axis SCARA and five- and six-axis articulated robots. The catalog also covers DENSO robot controllers, teaching pendants and programming software.

The DENSO robot lineup includes models with reaches from 350 to 1,300 mm and payload capacities up to 20 kg. Repeatability is to within ±0.015 mm. Standard, dust- and mistproof (IP65), dust- and splashproof (IP67), cleanroom (Class 10 and Class 100) and aseptic configurations are available.

"We are proud of the fact that we offer the industry's widest range of small industrial robots," said Peter Cavallo, robotics sales manager, DENSO Sales California. "Our new catalog makes it easy for our customers to find the product information they are looking for in one convenient place."

DENSO is the world's largest user of small assembly robots, with more than 16,000 DENSO robots designed and used in its own manufacturing facilities. More than 60,000 DENSO robots are used in other companies worldwide. DENSO Robotics offers a complete line of robots, controllers and software covering a wide range of applications. For more information, visit www.densorobotics.com.

DENSO Corporation, headquartered in Kariya, Aichi prefecture, Japan, is a leading global automotive supplier of advanced technology, systems and components in the areas of thermal, powertrain control, electric, electronics and information and safety. Its customers include all the world's major carmakers. Worldwide, the company has more than 200 subsidiaries and affiliates in 34 countries and regions (including Japan) and employs approximately 120,000 people. Consolidated global sales for the fiscal year ending March 31, 2010, totaled US$32.0 billion. Last fiscal year, DENSO spent 9.1 percent of its global consolidated sales on research and development. DENSO common stock is traded on the Tokyo and Nagoya stock exchanges.

In the Americas, DENSO employs more than 16,000 people with consolidated sales totaling US$5.7 billion for the fiscal year ending March 31, 2010.