New Compact COM Express® Module with Dual Core Intel® Atom™ Processor and DDR3 Memory Support
rong>ADLINK's Express-LPC, measuring only 95 x 95 mm, is an entry level COM Express® Type 2 Computer-on-Module targeting highly compact, low power, calculation intensive applications

San Jose, CA – ADLINK Technology, Inc., a leading provider of embedded platform products and services, announces the Express-LPC, the newest member of its Computer-on-Module (COM) family. The Express-LPC in Compact form factor measures just 95 x 95 millimeters, and is fully compatible with the Type 2 pin-out of the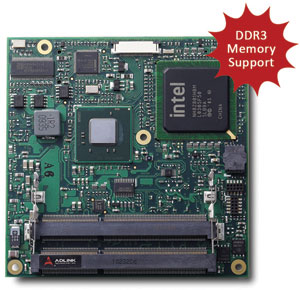 PICMG® COM Express specification. COM Express modules are highly integrated off-the-shelf building blocks that are ready to plug into custom-made, application-specific carrier boards for embedded and mobile applications.

ADLINK's Express-LPC is positioned as an entry level, cost effective module with an excellent performance-per-watt ratio (MIPS, FLOPS)*. It typically targets calculation intensive applications such a Robotics, Test and Measurement, entry level Medical Diagnostics and Industrial Automation. The Express-LPC is the perfect replacement for existing Pentium® M based designs, offering better performance at a lower price and much lower power envelope.

ADLINK's Express-LPC is based on the latest Intel® Atom™ processors ranging from the dual core D525 at 1.8GHz to the low voltage single core N455 at 1.66 GHz. The module supports up to 4GB of DDR3 memory on two SODIMM sockets. In addition to an increase in memory bandwidth compared with DDR2, the Express-LPC's DDR3 memory support also brings a significant cost advantage and the certainty of reliable supplies well into the future.

The Express-LPC is equipped with integrated graphics support for analog VGA and LVDS. The module supports five PCI Express x1 lanes via the Intel® I/O Controller Hub 8 Mobile chipset (ICH8M), one Gigabit Ethernet connection and three SATA channels. Legacy support is provided by a single Parallel ATA channel, 32-bit PCI bus and Low Pin Count bus (LPC).

ADLINK's Express-LPC is available with an onboard IDE-based Solid State Drive (SSD) up to 8GB, and comes standard with an integrated Trusted Platform Module (TPM 1.2) to provide secure storage of encryption keys for system and data protection. The module is equipped with AMIBIOS8, supporting embedded features such as Remote Console, CMOS backup, CPU and System Monitoring, Watchdog Timer, and OEM Splash Screen. Optimized for portable and mobile applications, the Express-LPC's BIOS supports ACPI-based Smart Battery functionality for single or dual battery sub systems. For ADLNK's complete COM Express® building blocks to fit all applications, please visit http://www.adlinktech.com/Computer-on-Module/Com-Express/index.html.

Pricing and Availability

The Express-LPC is currently available. Single quantity pricing starts at $249.

ADLINK's Complete Computer-on-Module Product Line


COM Express® modules are highly integrated off-the-shelf building blocks based on a PCI Express® bus architecture that plug into custom made, application-specific carrier boards. ADLINK's COM Express® modules are available in three different sizes.

Basic: 125 x 95 mm
Compact: 95 x 95 mm
Ultra: 84 x 55 mm

ETX® modules are PCI/ISA based that offer complete PC functionality and legacy I/O support within a 95 x 114 mm footprint.
To evaluate or test our modules, ADLINK provides a wide assortment of reference carrier boards. All design files for these reference boards are freely available to support customers in their own design efforts.

Carrier Board Design and Manufacturing Support

ADLINK provides schematics, mechanical files, design guides, R&D support, product review service and BIOS customization for companies that are doing their own carrier board design. ADLINK also offers full development and production services for those who wish to outsource their carrier board design and/or manufacturing.

*MIPS: Million Instructions Per Second; FLOPS: FLoating point OPerations per Second. MIPS and FLOPS are measures of a computer's performance.

About ADLINK

ADLINK Technology provides a wide range of embedded computing products and services to the test & measurement, automation & process control, gaming, communications, medical, network security, and transportation industries. ADLINK products include PCI Express®-based data acquisition and I/O; vision and motion control; and AdvancedTCA®, CompactPCI®, and Computer-on-Modules (COMs) for industrial computing. With the acquisition of Ampro Computers, Inc., ADLINK also provides a wide range of Extreme Rugged and Rugged Single Board Computers, Computer-on-Modules and Systems under the brand name Ampro by ADLINK. ADLINK strives to minimize the total cost of ownership (TCO) of its customers by providing customization and system integration services, maintaining low manufacturing costs, and extending the lifecycle of its products. ADLINK is a global company with headquarters and manufacturing in Taiwan; R&D and integration in Taiwan, China, and the US; and an extensive network of worldwide sales and support offices.
ADLINK is ISO-9001, ISO-14001, ISO-13485, and TL9000 certified, is an Associate Member of the Intel® Embedded Alliance, an Executive Member of PICMG, a Sponsor Member of the PXI Systems Alliance, and a Member of the AXIe Consortium. ADLINK is a publicly traded company listed on the TAIEX Taiwan Stock Exchange (stock code: 6166).