New Certified Vision Professional-Basic Courses Launch April 7 from Association for Advancing Automation
Updated programs offer the latest training for vision and imaging professionals also to be offered at
Automate 2022 Conference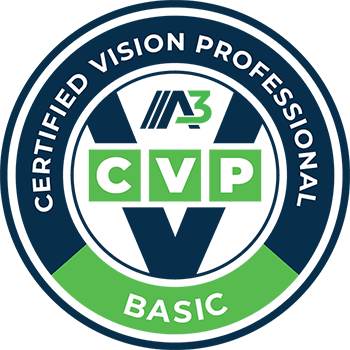 ANN ARBOR, MICHIGAN – The Association for Advancing Automation (A3) will unveil new and refreshed courses for its Certified Vision Professional-Basic (CVP-Basic) program on April 7, 2022.
The individual CVP-Basic training program, which outlines the fundamentals of machine vision and imaging, offers vision industry professionals the opportunity to enhance their knowledge and professional status. The new classes will be available virtually at AUTOMATE.ORG and in-person at the Automate 2022 Conference in Detroit, June 6-9.
The specialized training featured in the updated courses consists of six classes taught by industry leaders, including:
The Fundamentals of Machine Vision, Dave Dechow, Landing AI
Beginning Optics for Machine Vision, Nick Sischka, Edmund Optics
Beginning Lighting for Machine Vision, Daryl Martin, Advanced Illumination
The Fundamentals of Camera & Image Sensor Technology, Kevin McCabe, IDS Imaging Development Systems
Image Processing Fundamentals, Nicolas Vazquez, National Instruments, and Romik Chatterjee, Graftek Imaging
Vision System Design, David Dechow, Landing AI, and Perry West, Automated Vision Systems
"The A3 CVP program has become a critical benchmark for machine vision professionals," said Robert Huschka, A3's Vice President of Education Strategies. "Our project manager, Perry West of Automated Vision Systems, has worked with these industry leaders to bring the latest technology and techniques to this industry-leading certification program."
More than 1,180 people have achieved certification in the CVP program.
The virtual courses will be available on A3's website, AUTOMATE.ORG, beginning April 7. A3 member companies at the Gold and Platinum levels will have free access to the new courses.
For others, there are two options available for accessing the online CVP training:
Register to take all courses in the full basic programs. Purchasers can access the courses anytime and start and stop as needed. Access to all courses is valid for 90 days. This purchase is based on a single user.
Register for a company-wide license. This subscription allows an entire team access to all basic courses for a full year.
An individual purchase is $595 USD for members, $695 for non-members. Bronze and Silver A3 member companies can purchase an annual subscription for all their employees for $995. Non-members pay $1,495 for the annual subscription.
Originally launched in 2010 at The Vision Show, the Certified Vision Professional (CVP) training is filling gaps in machine vision engineering and technician training while helping customers know who to trust with their machine vision system projects.
After completing the courses, the next step is passing the certification exam. Online exam options are currently available. Those with prior vision experience can choose to take the exam without viewing the courses. Certification is good for five years. After that, professionals will need to retake the exam to maintain their certification.
Take CVP Courses at the Automate Show Conference
In addition to online course, vision professionals will have the first opportunity to take these new courses in-person as part of the Automate Conference in Detroit, June 6-9, 2022.
New and update courses for A3's Advanced Certified Vision Professional program will also be unveiled at the Automate Conference. The updated CVP-Advanced program will be made available virtually at AUTOMATE.ORG later this summer. Register here for the Automate Conference.
About Association for Advancing Automation (A3)
The Association for Advancing Automation (A3) is the leading global advocate for the benefits of automating. A3 promotes automation technologies and ideas that transform the way business is done. Members of A3 represent nearly 1,100 automation manufacturers, component suppliers, system integrators, end users, academic institutions, research groups and consulting firms from throughout the world that drive automation forward.
A3 hosts a number of industry-leading events, including Automate Preview Series (Ongoing), the Automate Show & Conference (June 6-9, 2022, in Detroit, MI), The Autonomous Mobile Robots & Logistics Week (October 10-13, 2022, in Boston, MA) and The Vision Show (October 11-13, 2022, in Boston, MA).
For More Information
Jackie Rose
Association for Advancing Automation
(734) 929-3264