New Centric Grippers with Ultitooth Guidance Gripper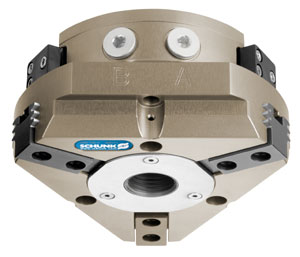 PZB-plus is a newly designed series of 3-finger centric grippers, whose special feature is a central bore designed as a sleeve. This central bore, which is also equipped with female threads for customer-specific add-ons, can be used to supply material or as an ejector. However, it can also be used to monitor the handling or assembly process with a camera system or to pick up workpieces and centre them using the sleeve during the gripping process, for example. There are also threads integrated on the upper face of the gripper in addition to the threads on the cover plate, to facilitate mounting customer-specific add-ons.



PZB-plus is available in two different stroke length versions, whereby the smaller stroke results in approximately double gripping force. The six sizes from 64 to 200 are fitted with a multitooth guide, as is the case in the premium series PGN-plus and PZN-plus. Therefore, compared with the older PZB classic series, PZB-plus can handle 100 percent higher torques in directions at right angles to the gripping motion. This makes it possible to use smaller grippers than before, and thus to work more economically.


An optional gripping force safety device is also available for PZB-plus, which are spring loaded for ID or OD gripping. The position is monitored either via a magnetic switch or inductive proximity switch, and the hose-free direct connection makes assembly and installation significantly easier.


The comprehensive and sophisticated accessories available for the other plus series will of course also be available for the PZB-plus series. This includes force measurement jaws, quick-change jaws, valves, sensors or jaw blanks.