New Capacitive Encoders for Stepper Motors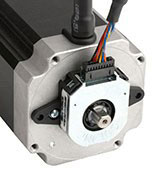 Applied Motion Products, Inc. is pleased to announce the introduction of a new encoder feedback option for NEMA 17, 23, and 24 frame stepper motors. These new incremental encoders are built upon a technology that utilizes capacitive reactance to generate digital signals for speed and position feedback in the motor and drive system. Capacitive encoders offer advantages over other encoder types, including resistance to environmental contaminants such as dust and oil. Modular capacitive encoders also have thin profiles and are competitively priced.
Incremental encoders can be added to step motor systems to improve speed and position performance in a wide variety of automation and motion control applications. An encoder enables the motor and drive system to perform functions like stall detection and stall prevention. Stall detection immediately notifies the system when a motor stall occurs, which can happen in machine jams or breaks, or when other unexpected events occur in the application. Stall prevention enables the motor and drive system to avoid stalling altogether by dynamically adjusting motor speed and torque to match the changing demands of the load.
New CAA type capacitive encoders can be added to all NEMA 17, 23, and 24 frame step motors from Applied Motion Products, providing the same enhancements to system performance as existing WAA, YAA, and ZAA encoder options. To simplify product selection, a select group of the most popular step motor part numbers have been pre-configured with these new encoder options. A list of those part numbers is shown below.
Pre-Configured Part Numbers:
NEMA 17 frame size step motors with capacitive encoders

HT17-268D-CAA
HT17-271D-CAA
HT17-275D-CAA
HT17-278D-CAA

NEMA 23 frame size step motors with capacitive encoders

HT23-552D-CAA
HT23-553D-CAA
HT23-554D-CAA
HT23-594D-CAA
HT23-598D-CAA
HT23-598DC-CAA
HT23-601D-CAA
HT23-601DC-CAA
HT23-603D-CAA

NEMA 24 frame size step motors with capacative encoders

HT24-100D-CAA
HT24-105D-CAA
HT24-108D-CAA
Product Features:
Capacitive encoder technology is impervious to environmental contaminants.
2000 PPR resolution standard. Other resolutions available upon request.
A, B, and Z (index) channels, differential line driver outputs.
Low profile encoder housing.
Ideal for use with Applied Motion Products motors and drives. Motors ship with encoders pre-assembled onto rear shaft of motor.
Lower cost, single-ended encoders (BAA type) are available for cost-sensitive applications. Contact us to request a quote