New Cable Carrier for Cranes from igus
After three years of endurance tests, igus has now launched a completely new generation of roller cable carriers. New "System P4" was unveiled in the States at the IMTS show in September and is available on request. The new cable carrier has achieved speeds up to 23 feet per second over distances of 400 feet in igus' outdoor testing facility. P4 is specially developed for indoor and outdoor cranes, as well as conveyor systems.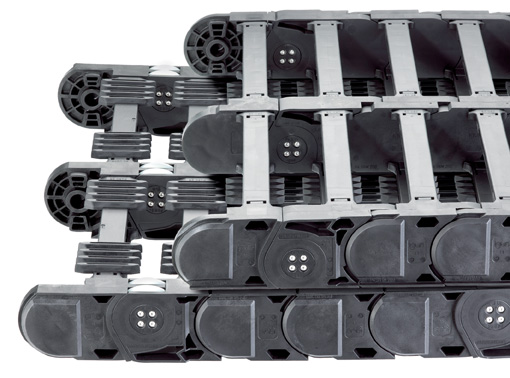 igus developed roller cable carriers for cranes more than 10 years ago. They have proven their abilities in even the toughest of crane applications the world over ever since. Since 2006, the number of large shipyard cranes equipped with Energy Chain cable carriers from igus has run into double figures. In June 2008, the 375th ship-to-shore crane was equipped with an igus cable carrier. The company has also equipped more than 2,500 RTG and RMG cranes worldwide.
The need for ever-increasing speeds demands advancements in cable carrier technology. Similarly, cable carriers must operate smoothly and quietly because many ports are expanding and moving closer to residential areas. P4 is especially low noise and wear resistant at high speeds, even with loads up to 20 lbs/ft. In fact, thanks to the use of additional center links, there is practically no weight limit. Each link has the same short pitch, which means the cable carrier moves with minimal vibration in its radius. Plastic bridges and grooves along the surface of the cable carrier —a design from igus for long travels called 'AUTO-GLIDE' —mean the upper run of the P4 chain glides smoothly over the lower run.
The plastic rollers are firmly integrated into the sides of the cable carrier and do not rotate over one another, because the cable carrier's upper and lower runs offset. This reduces wear and increases service life.
Joe Ciringione, national sales manager for Energy Chain Systems— igus North America — says: "With P4, we now have a product available for the fastest and largest cranes in the world. We have already received our first order to install this new system on a container crane in the biggest inland port in Germany. In addition, discussions are underway for the P4 to be tested over an 800 foot travel in China on behalf of a customer."