New Brochure Highlights Interesting Applications
EAST PROVIDENCE, R.I. – June 1, 2009 – igus® has published a new brochure about how its plastic plain bearings, spherical bearings and linear bearings and slides are used in real-world applications. "igus Bearing Applications" highlights application examples from a wide range of industries to inform design engineers about the advantages of using plastic bearings.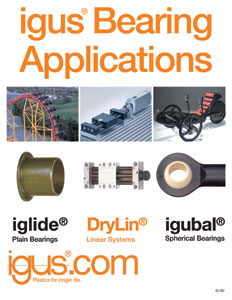 "igus Bearing Applications" includes more than 20 application examples from industries including medical, agricultural, food and entertainment. The stories show how plastic bearings can save money, reduce downtime and replace other bearing types such as metal and bronze. The brochure also talks about the value-added services offered by igus, such as free onsite value-analysis visits and the Expert System, which predicts the service life of its iglide® plastic plain bearings, igubal® spherical bearings and DryLin® linear bearings and slides in a given application.
All igus' bearings and sliding elements are made from high-performance polymers. They are self-lubricating and maintenance-free, which reduces costs and maintenance requirements.
To request the "igus Bearing Applications" brochure, call 1-888-803-1895. Alternatively, download your copy today, by visiting www.igus.com/applications_brochure_request.asp.
About igus
igus® develops industry-leading Energy Chain® cable carriers, Chainflex® continuous-flex cables, iglide plastic plain bearings, igubal spherical bearings, DryLin linear bearings and guide systems. These seemingly unrelated products are linked together through a belief in making functionally advanced, yet affordable plastic components and assemblies. With plastic bearing experience since 1964, cable carrier experience since 1971 and continuous-flex cable since 1989, igus provides the right solution based on 70,000 products available from stock. No minimum order required. For more information, contact igus at (800) 521-2747 or visit www.igus.com.
igus, Chainflex, iglide, DryLin, Energy Chain, Triflex and igubal are registered trademarks of igus Inc. All other company names and products are trademarks or registered trademarks of their respective companies.

For press inquiries:
Courtney Toomey
Marketing Specialist

Nikki Groom
Marketing Specialist
For general inquiries (for publication):
igus Inc.
PO Box 14349
East Providence, RI 02914
Toll free: 1-800-521-2747
Tel: (401) 438-2200
Fax: (401) 438-7270
Web: www.igus.com