New Blackfly®S Family Packs the Latest Imaging Technology into a Compact Housing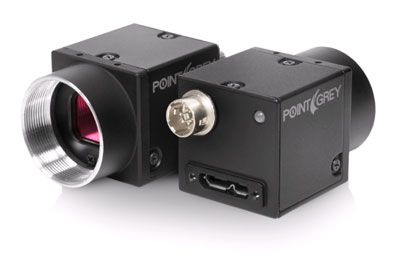 Richmond, BC, Canada – Point Grey, a global leader in innovative, high-performance digital cameras for industrial and scientific applications, today announced the release of Blackfly S, a new family of USB3 Vision and GigE Vision cameras designed to meet complex imaging requirements, enhance system automation, improve time to market and deliver more reliable solutions.
The compact size, comprehensive feature set, high frame rate and industry-leading sensors and interfaces of Blackfly S make it suitable for a variety of applications such as display or PCB inspection, microscopy, robotics, 3D scanning, intelligent traffic systems and many more. Meanwhile, Point Grey's extensive simulation and testing of Blackfly S ensures optimal reliability.
Alongside the Blackfly S, Point Grey also released its new GenICam3 based Spinnaker SDK. Together these powerful new products will allow customers to create products faster and take advantage of emerging technologies to develop new applications.
The first two Blackfly S models shipping feature a 29 mm 'ice cube' case and a USB 3.0 interface:
The 5 MP Blackfly S BFS-U3-51S5 model uses the Sony Pregius IMX250 global shutter CMOS sensor, featuring 2448 x 2048 image resolution at 75 FPS.
The 1.3 MP Blackfly S BFS-U3-13Y3 model uses the ON Semi PYTHON 1300 global shutter CMOS sensor, featuring 1280 x 1024 image resolution at 175 FPS.
Additional Blackfly S models with both USB 3.0 and GigE interfaces will be introduced later this year, including 9 and 12 MP resolution Sony Pregius sensors, low read noise Sony Starvis sensors and Point Grey's highest resolution camera to date with a 20 MP Sony sensor.
"By leveraging the latest global shutter CMOS technology with on-camera processing such as flexible auto exposure and color transformation, Blackfly S offers customers the high quality images they need," says Michael Gibbons, Vice President of Sales and Marketing at Point Grey. "Top-quality images and high frame rates in a very compact form factor enable our customers to deliver superior performance and accuracy in 3D scanning, industrial inspection, medical imaging, robot navigation, autonomous driving, and many others."
About Point Grey
Point Grey is a global leader in innovative, high-performance digital cameras for industrial, medical and life science, traffic, biometric, GIS, and people counting applications. Founded in January of 1997, the company's approach to product pricing, quality control, and customer service has attracted thousands of customers worldwide, and its organic growth through product sales has enabled the company to expand significantly without any outside investment. Point Grey currently employs more than 300 people worldwide and has offices in Canada, Germany, Japan, China, and Italy. The company partners with a network of distributors in Japan, Korea, China, Singapore, Taiwan, and the United Kingdom.
Company Contact
Renata Sprencz, Marketing Communications Manager
Tel: +1.604.242.9937