New Anti-backlash Leadscrew System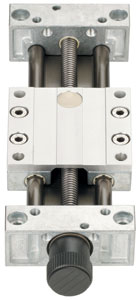 igus® has unveiled a new addition to its line of DryLin® SLW leadscrew tables. DryLin SLW Pre-Loaded uses anti-backlash nuts to reduce axial clearance and is also fitted with DryLin W 'turn-to-fit' linear bearings, which offer adjustable radial clearance.

DryLin SLW Pre-Loaded is available off-the-shelf and is less expensive when compared to ball bearing assemblies. Costs associated with research, design, drawing, purchasing, QC, and assembly are virtually eliminated. In contrast to other linear shaft systems, DryLin SLW Pre-Loaded also features high torsional stiffness and is completely lubrication-free and contaminant-resistant.

The clearance on the DryLin W carriages can be adjusted with an Allen wrench. The setscrew makes an audible clicking sound with every increment of adjustment, which helps the end user achieve consistent and quick assembly every time. This new technology makes higher-precision applications possible at a lower cost.

"The pre-loaded version of our DryLin W Adjustable provides design engineers with more options," said Matt Mowry, product manager for linear technology at igus North America, "Instead of buying a number of different components to piece together an assembly, they can purchase a high-performance part from our catalog and use the time saved to design several other aspects of their equipment."

See DryLin SLW Pre-Loaded linear guides in action next week at Pack Expo, booth number 4985, South Hall. For more information about igus' entire line of DryLin linear bearings, guides and slide tables, e-mail sales@igus.com or call 1-888-803-1895.

About igus
igus develops industry-leading Energy Chain® cable carriers, Chainflex® continuous-flex cables, iglide® plastic plain bearings, igubal® spherical bearings, DryLin linear bearings and guide systems. These seemingly unrelated products are linked together through a belief in making functionally advanced, yet affordable plastic components and assemblies. With plastic bearing experience since 1964, cable carrier experience since 1971 and continuous-flex cable since 1989, igus provides the right solution based on 70,000 products available from stock. No minimum order required. For more information, contact igus at (800) 521-2747 or visit www.igus.com.