New and Improved EtherNet/IP Communications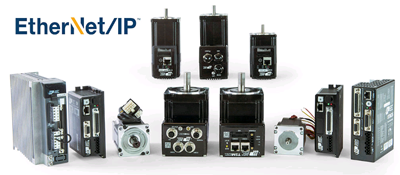 Applied Motion Products is pleased to announce the release of a new, faster EtherNet/IP communications stack for all EtherNet/IP-compatible integrated motor and drive products. This new stack includes a variety of enhancements over the legacy communications stack, increasing speed and functionality while maintaining backwards compatibility.
This development reinforces Applied Motion Products' commitment to providing motion control solutions for leading industrial Ethernet networks. According to Jeff Kordik, CTO of Applied Motion Products,
"This new stack addresses requests from the market for more flexibility and better usability with motors and drives on EtherNet/IP networks. We've listened to this feedback and developed a solution that will enable our customers to do more with the same hardware, thereby adding significant value to both existing machine designs as well as new ones".
New functionality in the communications stack includes an output assembly that enables motion and other drive functions to be commanded with Class 1 implicit messaging, also known as I/O messaging or polling. A new and improved input assembly includes more data for drive status, including new words for position error and analog input values. These two new assemblies make PLC programming easier, increase communication speeds and reduce network traffic. The programmable Requested Packet Interval (RPI) in the controller can now be set as low as 4 milliseconds.
Existing Class 3 explicit messaging capabilities remain in place, and backwards compatibility is supported. Backwards compatibility means that the new stack can be used immediately by existing customers, even if they are not immediately ready to incorporate the new functionality. It also means that the new stack is completely transparent to existing users and so roll out of the new stack can occur without disruptions in the design cycle. Users wishing to take advantage of the new functionality can configure their PLCs to access the new assemblies at a time when it works best for them.
Integrated motors and drives with EtherNet/IP communications are compatible with popular Rockwell PLCs such as ControlLogix, CompactLogix and MicroLogix, as well as PLCs from Omron, Panasonic, Keyence, and others. Products from Applied Motion Products that support the new communications stack include the following:
StepSERVO Integrated Motors: SSM, TSM and TXM series
Stepper Drives: ST5, ST10 and STAC5 series
Integrated Stepper Motors: STM and SWM series
Click here to view the full list of EtherNet/IP-compatible integrated motors and drives.