New A3M Rugged, Absolute Multiturn Encoder from SICK
rong>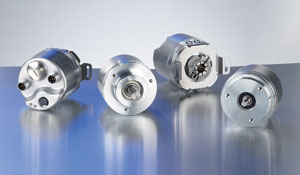 Offers integrated Profibus output

Minneapolis, Minn. – SICK, one of the world's leading manufacturers of sensors, safety systems, machine vision, and automatic identification products for factory and logistics automation, today announced the launch of its new A3M encoder with integrated Profibus output. The A3M is a rugged, absolute multiturn encoder with 31-bit output (14-bit singleturn and 17-bit multiturn), where the absolute positions are native to the encoder, without an internal power source.

The A3M is based on magnetic technology that uses very few moving parts and is perfect for use in harsh environments and outdoor applications, since the internal electronics are resistant to contamination and condensation. The advanced versions of the A3M can communicate via the DP V2, where motion control applications can directly use Profibus instead of a secondary motion control bus.

Applications include:

Packaging – The A3M60 is ideal for palletizers, bag forming, filling and sealing machines, labeling and folding machines
Cranes and outdoor warehousing systems – Since the A3M has a conformal coating for resistance against condensation and a high IP rating, it can be used in outdoor applications
Robotics - The A3M60 can be used for position control and collision avoidance. Some typical applications are assembly machines, AGVs, paint spraying and welding robots
Motion control applications – The advanced variants of the A3M60 with the DP V2 protocol can be used in motion control applications where speed and fast cycle times are very important
General manufacturing – The A3M60 is suitable for many manufacturing needs when a Profibus fieldbus network is used
About SICK
SICK is one of the world's leading manufacturers of sensors, safety systems and automatic identification products for industrial applications. With nearly 450 patents, SICK continues to lead the industry in new product innovations. The diversity of its product line allows SICK to offer solutions at every phase of production in the logistics, automotive, packaging, electronics, food and beverage, and material handling markets. SICK was founded in 1946 and has operations or representation in 65 countries worldwide.