New 50 mm Fixed Focal Lens for Latest Machine Vision Sensors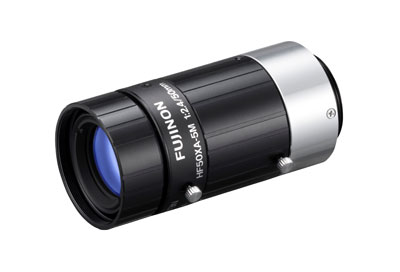 Kleve, Germany: FUJINON HF-5M fixed focal lens series from Fujifilm is extended with a 50-mm lens compatible with image sensors of up to 1.1" optical format and pixels pitches down to 3.45 µm.
With this latest addition of the HF50XA-5M, the Fujinon HF-5M series now consists of seven high performance fixed focal length lenses with C mount and focal lengths between 8 mm and 50 mm. The new lens HF50XA-5M broadens the range at the upper edge of the focal length.
For imagers of up to 2/3" optical format, these lenses show a consistent resolution power of 3.45 µm and below from the center to the corners even when the aperture is wide open under low light conditions as well as over changing working distances. This corresponds to a pixel count of 5 megapixels, as provided by many widely adopted CCD imagers and new image sensors with CMOS global shutter technology.
Beyond, this lens also works perfectly well with larger CMOS global shutter sensors for machine vision applications of up to 1.1" optical format and pixel sizes from 4.5 µm and higher.
With an angle of view of 10.4° x 7.8° (on 2/3") and a minimum object distance of 200 mm the lens fits perfectly to applications that require a short working distance and high accuracy. Thanks to the small body measuring just 33 mm in outer diameter, the HF50XA-5M can easily be integrated into compact optical inspection devices with restricted internal space. Furthermore, each lens has three holes for locking screws that allow for the iris and the focus ring to be adjusted from more flexible angles.
For mobile and robotic applications, this lens series features a special vibration and shock resistant design significantly reducing the displacement of the optical axis even at shocks with an orthogonal acceleration of up to 10G.
About FUJIFILM Optical Devices Europe GmbH
FUJIFILM Optical Devices Europe GmbH is responsible at its Kleve location for the sales, marketing and servicing of professional FUJINON lenses for TV and film productions, CCTV and Machine Vision as well as FUJINON Binoculars in Europe, the Middle East and in Africa.
For many years, FUJINON has been creating award-winning lenses. It develops and produces innovative, cutting-edge solutions for almost every application in the entertainment industry, security systems, and industrial image processing.
The professional lenses for TV and film productions redefine the limits of high resolution, high contrast ratio, and high dynamic range. They create the pin-sharp TV pictures and help camera operators film stunning, powerful scenes.
Thanks to the Megapixel-Zoom and Megapixel-Varifocal lenses, CCTV systems are featuring high resolution. The steadily growing portfolio of precise Machine Vision lenses for industrial image processing ensures minimal distortion for highest image quality, even under harsh conditions.
FUJINON binoculars are known throughout the world. In particular, the FUJINON binoculars are very much appreciated by users in professional and semi-professional areas.