Netzer's New DS-58 Absolute Position Rotary Encoder Features 18 bit Resolution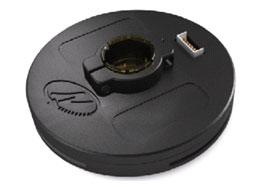 Netzer's world-wide patented, rugged high performance Electric Encoder™ technology, suits a wide variety of applications ranging from space and avionics, through military and defense, to instrumentation and automotive. Netzer Rotary Encoders feature absolute or incremental position feedback providing analog or digital outputs.
The Non-contact, absolute-position Electric Encoder™ relies on interaction between the measured displacement and an internally shielded, space/time modulated, electric field and offers features unsurpassed by traditional optical and magnetic encoders.
The DS-58 is a member of the DS series of Non-contact, absolute-position Electric Encoders™, based on Netzer Precision proprietary technology. These encoders offer many advantages, some unparalleled:
Low profile (17 mm) & low weight
18bit resolution
< 0.02° accuracy
Analog Sin/Cos, Digital SSi , or Digital AqB+I outputs
Hollow, floating shaft
No bearings or other contacting elements
Low power options
Analog or multiple digital interface options
High tolerance to temperature, shock, moisture, EMI, RFI and Magnetic fields
PR Contact
Warren Osak
Tel: 877-378-0240