Neocortex Goods to Robot Cell Introduced at PACK EXPO: Innovative High-Mix, High-Volume Picking Solution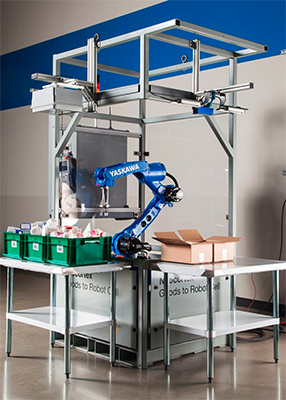 Dayton, OH – The Neocortex® Goods to Robot Cell, a complete, pre-engineered adaptive picking solution, is being introduced at PACK EXPO 2016 (Nov 6-9, 2016; Chicago, IL; Yaskawa booth #S-2179).
A collaboration between Yaskawa America Inc., Motoman Robotics Division and Universal Robotics, this solution is designed to automate any high-mix, high-volume application where manual labor is currently required, such as random bin picking, order fulfillment, machine tending or line loading.
Built on Universal's Neocortex and Spatial Vision® 3D software platform, this solution features a Motoman® MH12 robot, gripper, 3D vision guidance, industrial PC, sensors, communication protocols, human machine interface (HMI) and safety barriers.
Neocortex, an artificial intelligence platform, is highly flexible with unparalleled real-time recognition. It can identify a diverse mix of boxes, bottles, tubes and bags. There is no limit to the number of parts or SKUs it can identify. Neocortex enables the high-speed, six-axis MH12 robot to pick incoming products from totes, bins, trays or cases. The robot then places the product in bags, boxes or cartons for shipping. With the ability of 800 picks per hour (average) with peaks up to 27 picks per minute, the Neocortex Goods to Robot Cell can increase accuracy and throughput over manual fulfillment.
"This is an example of Yaskawa Motoman's leadership commitment to pioneering new solutions for difficult applications," stated Roger Christian, Divisional Leader, New Market Development. "This collaboration with an industry innovator, brings a pre-packaged solution to the industry for material handling applications previously not possible. Universal's Neocortex artificial intelligence brings great handling flexibility to our high-speed MH-series robots, and delivers it in a compact pre-engineered cell."
"Customer interest, even prior to release, has been outstanding," commented Hob Wubbena, Vice President at Universal Robotics. "Until now, no one has been able to combine high-speed handling with high variability of thousands of items, and deliver it in one easy-to-use robotic cell."
The compact cell is delivered on a 4-ft x 4-ft platform, easily placed in a human-scale workspace by a forklift and operational within one day.
About Yaskawa Motoman
Founded in 1989, the Motoman Robotics Division of Yaskawa America, Inc. is a leading robotics company in the Americas. With over 300,000 Motoman® robots installed globally, Yaskawa provides automation products and solutions for virtually every industry and robotic application; including arc welding, assembly, coating, dispensing, material handling, material cutting, material removal, packaging, palletizing and spot welding.
About Universal Robotics
Universal is an artificial intelligence software company that uses sensor input to allow machines to see, react, and learn with human-like flexibility. Its Neocortex artificial intelligence and Spatial Vision 3D software platform works with a wide range of robots and sensors. Neocortex technology was invented for NASA twelve years ago and developed for industrial use by Universal starting in 2008.