Neocortex Goods to Robot Cell for Replenishing Airline Beverages is Now Available
Universal Robotics and NxtGen Robotics have partnered to introduce an automated system with Neocortex® artificial intelligence for replenishing airline beverages returned to catering kitchens from aircraft after a flight – improving throughput and cleanliness while reducing costs.
NASHVILLE, TN – Universal Robotics® - the Neocortex® software artificial intelligence company – and NxtGen Robotics, experts in airline catering, today announced the availability of the first automated beverage replenishment solution for airlines – the Neocortex Airline Beverage Replenishing Cell. It is based on the pre-engineered Neocortex® Goods to Robot (G2R) Cell, using the class-leading Yaskawa Motoman MH12 six-axis robot. It flexibly sorts and replenishes a wide range of in-flight 12-ounce beverage cans returned to an airline catering kitchen. It has less than a one year payback for either a retrofit or new installation.
Airline hub catering kitchens spend a lot of time replenishing beverages consumed in-flight from many of the annual 9.5 million U.S. flights. This requires throwing out already-opened cans, sorting by brand leftover unused beverages, and then packing an assortment of new beverage cans into drawers of a mobile ATLAS trolley for each flight, per each Carrier's specification.
Neocortex – The Way the Real World Works™
Neocortex artificial intelligence handles inbound returned cans - whether upright, tilted and lying flat. It also determines cans that are opened and partially used, or unused and returned. If the can is unused, Neocortex identifies the brand by directing the robot to pick it up and read its label. It then reuses these cans for the next new drawer it assembles – supplementing with new cans as needed based on the prescribed assortment.
Gopal Vashist, Vice President of NxtGen Robotics, said, "It has been impossible to date to automate this because of the need to differentiate between used and unused cans, as well as its brand. Specifically, it's been impossible to identify whether it's a can of Coke® or Diet Coke® in real-world conditions and reuse it at a speed that exceeds manual labor. Neocortex artificial intelligence does this, and opens a whole new world of possibilities."
Extreme Flexibility – Now and In the Future
The Neocortex Cell replenishes using up to eight distinct brands of beverage. The operator puts incoming drawers on a conveyor, and picks up replenished trays on the outgoing conveyor. In between, the Cell dumps opened cans and sends dirty drawers to be washed. An operator only restocks the gravity-fed shelves with flats of beverages once an hour.
Neocortex's machine learning does not require programming to handle changes in brands or tray assortments. For instance, when a beverage company creates a new label, Neocortex is assisted by human training. It takes the operator a minute to train Neocortex on the new label. Then is it back to work. This extreme flexibility makes it easy to change, replace or substitute brands on the fly in case of shortages or modifications. The assortment composition can easily be changed via an operating panel.
David Peters, CEO of Universal, commented, "A smart solution for enabling automation in the food industry was not previously possible due to its high variability. This is the fourth proven application area of the Neocortex G2R Cell: airline beverage replenishment, dynamic machine tending, consumer products order fulfillment, and pharmaceutical unit picking."
There are many other benefits to the Cell beyond cost saving and higher throughput. It reduces repetitive strain injuries in the workplace caused by recurring grasping and rotating. It also enables better just-in-time inventory management because of better product usage information. It automates waste handling by dumping opened cans into the trash. It then automatically sends that same drawer to be washed, systematically improving overall cleanliness of trays. Since turnaround time is reduced, kitchen space is optimized.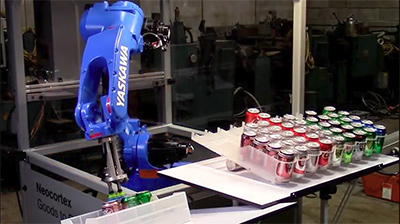 Affordable
The Neocortex Cell provides less than a 12-month payback for a 3-shift operation. It typically fills a prescribed assortment at 30 drawers per hour – saving 25% versus human labor. It includes everything – robot, software, automation, conveyance, racking for beverages, safety barriers, installation, onsite testing & operator training, and ongoing remote diagnostics and software upgrades.
About Universal Robotics
Universal is an artificial intelligence software company that uses sensor input to allow machines to see, react, and learn with human-like flexibility. Its Neocortex artificial intelligence and Spatial Vision 3D software platform works with a wide range of robots and sensors. Neocortex technology was invented for NASA twelve years ago and developed for industrial use by Universal starting in 2008.
About NxtGen Robotics
NxtGen Robotics is a food handling automation company that incorporates robotics into airline catering kitchens to provide higher quality food and beverage at lower cost.