Navitar Offers Expertly Matched, Seamlessly Integrated Imaging Systems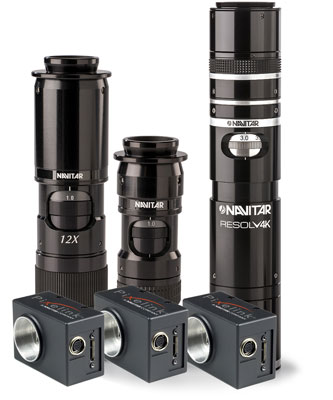 Rochester, NY – Navitar, Inc., a manufacturer of innovative camera and lens technologies, announced today the launch of a lens and camera coupling program offering customers a seamlessly integrated imaging system with uncompromised image quality.
Navitar has taken their flagship high resolution imaging lenses; the Resolv4K, 12X Zoom and Zoom 6000, and matched them with their Pixelink CMOS industrial cameras creating a fully integrated, optimized imaging solution. Systems can be built as motorized or fixed configurations with multiple sensor formats to choose from. Pixelink Capture imaging software, with integrated control of the zoom and focus of Navitar motorized lenses, is included with every solution. Capture also includes metrology software tools for onscreen measurement of length, area, pixel location and more.
Brett Cannarozzo, Vice President of North American Sales for Navitar comments, "This new coupling program simplifies the lens
and camera selection process for customers, so they can quickly build a proven imaging system ideal for their machine vision
application."
Vitus Weber heads up the new Sensor Integration Business, "For customers with more stringent tolerances, such as higher N.A. computer vision and machine learning applications, Navitar offers active lens/sensor alignment and complete camera modules. By controlling both the camera and lens designs, we ensure maximum performance of each component and optimal optical performance of the entire assembly."
About Navitar, Inc.
Navitar, Inc. designs and manufactures integrated camera and lens solutions for customers and enterprises across the globe. We offer expert engineering services, cutting?edge optical technologies, and world?class customer support, creating products of the highest quality. Our integrated imaging solutions provide the eyes of automation for machine vision, metrology and robotic systems, advanced semiconductor and electronic inspection, semiconductor lithography, advanced life science equipment including cell analyzers and brain imaging, improved situational awareness in autonomous vehicles, homeland security, entertainment, planetarium, military applications and AR/VR.
About Pixelink
Pixelink, a Navitar Company, designs and manufactures consistently reliable industrial and life science cameras for machine vision, medical imaging, biometrics, and microscopy applications. Since 1992, Pixelink has designed, manufactured, and supported the imaging requirements of customers around the world. Pixelink offers unmatched customer support and service while providing the finest off?the?shelf, OEM, and custom industrial imaging solutions to their customers.