National Robotics Week Provides Opportunity to Encourage Local Students to Stay in School, Work Hard and Study STEM Subjects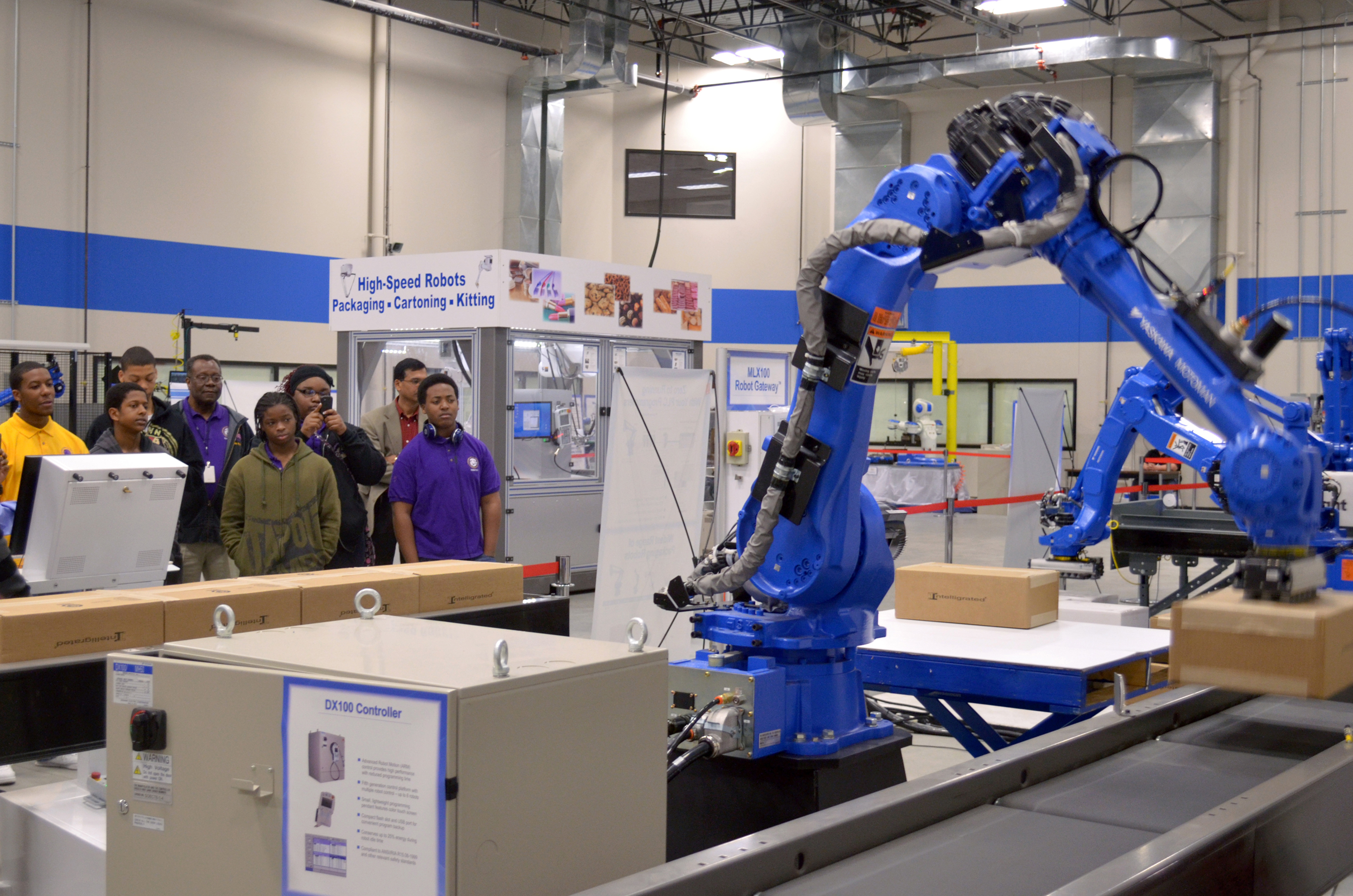 DAYTON, OH — In the spirit of National Robotics Week, Motoman Robotics, a division of Yaskawa America, Inc., hosted student groups from local high schools, provided facility tours, and spoke to them on the roles they could play in the future of our business.
In addition, representatives from several local automation companies and universities were invited to support Motoman Robotics' efforts and commitment to robotics
in the Miami Valley. Companies and universities represented include: OTC Daihen, PDSI, Rixan Associates, Edison Community College, Fortis College, Sinclair Community College, University of Dayton and University of Dayton Research Institute.

National Robotics Week was instituted by Congress as the second full week of April every year. 2012 marks the third year for National Robotics Week, and its stated purpose is to recognize robotics as a key technology for our nation's economy and, more importantly, to foster interest in the STEM (Science, Technology, Engineering and Mathematics) disciplines among students.

"We cannot realize these ambitions without a new generation of engineers, technicians, programmers and scientists. Together, with our colleagues from local automation companies and universities, we declare our commitment to robotics in the Miami Valley and with one voice call to students and their parents, to embrace STEM education, to focus on science, technology, engineering and mathematics as the best way to ensure an exciting career with good pay, and to really make a difference in the future of our local, regional and global economy," states Erik Nieves, technology director for Motoman Robotics.

As robotics continues its rapid growth, the Miami Valley is poised to leverage this strong ecosystem and become the largest robotics cluster in the state. Robots and services from the Dayton area will improve manufacturing productivity, keep our military men and women safer, and enhance our daily lives, not just here in Ohio, but nationally and across the globe.

About Motoman Robotics Division
Founded in 1989, the Motoman Robotics Division of Yaskawa America, Inc. is a leading robotics company in the Americas. With over 230,000 Motoman® robots installed globally, Yaskawa provides automation products and solutions for virtually every industry and robotic application; including arc welding, assembly, coating, dispensing, material handling, material cutting, material removal, packaging, palletizing and spot welding.