MXE-3000 Compact and Rugged Fanless Embedded Computer
rong>The 100G shock-resistant MXE-3000 empowers application performance in a wide variety of applications

San Jose, CA – ADLINK Technology, Inc., a leading provider of embedded platform products and services, announces the release of its MXE-3000 fanless embedded computer with rich integrated I/O at the Embedded Systems Conference Chicago in Chicago, IL. Equipped with the Intel® Atom™ D510 1.66 GHz processor, the MXE-3000 delivers twice the performance of the previous N270 platform, meeting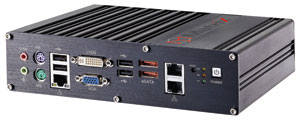 high-performance computing needs at all times. Featuring maximum operating shock tolerance up to 100 G, minimal footprint with a small profile, and unique thermal design with zero cable management requirements, the MXE-3000 provides reliable performance in mission critical and harsh environments for a variety of applications.

Leveraging the advantages of enhanced RF function, dedicated I/O features, 9-32 VDC wide range power input, and LVDS & VGA dual display support, the MXE-3000 with ease of mounting capability – VESA or DIN rail, is an ideal match for diverse applications such as intelligent transportation, medication management, digital signage, factory automation, and logistic applications, and especially in automated guided vehicle systems.

With changes in market trend from toward smaller fanless configurations, the MXE-3000's compact 210 mm (W) x 170 mm (D) x 53 mm (H) size suits it ideally for applications requiring limited storage space and demanding zero-noise, dustproof performance. A unique cable-free structure and extended temperature functionality enable the MXE-3000 series to greatly benefit customers with high-performance computing, lowered total cost of ownership, and long-term durability.

"The ability to withstand harsh environmental factors is critical for in-vehicle computing applications requiring a reliable platform in semi-outdoor environments. In task-driven industries such as warehousing, factory automation, and harbor automation, the MXE-3000 can be deployed on vehicles like trucks, lifters, or trailers for efficient transport. The MXE-3000 further provides value-added material management. In one example, inventories can be recorded while simultaneously transferring goods. Utilizing proven RFID and Wi-Fi technologies, the in-vehicle retrieves cargo information via reader and relays it wirelessly to the control center for dependable online cargo management." noted Kenny Chang, Product Director of ADLINK's I/O Platform Product Center.

Pricing and Availability
The MXE-3000 is currently available for a list price of $672. Visit ADLINK at Booth 1114, ESC Chicago to experience ADLINK's products in person. For more information on the MXE-3000 series, please visit www.adlinktech.com.

About ADLINK
ADLINK Technology provides a wide range of embedded computing products and services to the test & measurement, automation & process control, gaming, communications, medical, network security, and transportation industries. ADLINK products include PCI Express®-based data acquisition and I/O; vision and motion control; and AdvancedTCA®, CompactPCI®, and Computer-on-Modules (COMs) for industrial computing. With the acquisition of Ampro Computers, Inc., ADLINK also provides a wide range of Extreme Rugged and Rugged Single Board Computers, Computer-on-Modules and Systems under the brand name Ampro by ADLINK. ADLINK strives to minimize the total cost of ownership (TCO) of its customers by providing customization and system integration services, maintaining low manufacturing costs, and extending the lifecycle of its products. ADLINK is a global company with headquarters and manufacturing in Taiwan; R&D and integration in Taiwan, China, and the US; and an extensive network of worldwide sales and support offices.

ADLINK is ISO-9001, ISO-14001, ISO-13485, and TL9000 certified, is an Associate Member of the Intel® Embedded Alliance, an Executive Member of PICMG, a Sponsor Member of the PXI Systems Alliance, and a Member of the AXIe Consortium. ADLINK is a publicly traded company listed on the TAIEX Taiwan Stock Exchange (stock code: 6166).