MVTec MERLIC 2.1 Makes Imaging Even More User-friendly
Visit us at AUTOMATICA 2016 from June 21 to 24 in Munich, Hall B5, Booth 305
Minor release on June 20, in time for AUTOMATICA
Improved usability for even easier creation of machine vision applications
MERLIC 2.1 is available worldwide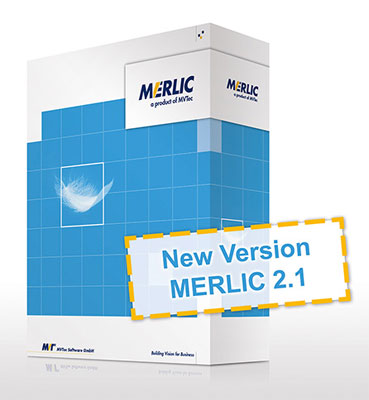 MVTec Software GmbH, the leading manufacturer of standard machine vision software, will be launching MERLIC 2.1 on June 20. The new minor release improves existing features, optimizes usability, and provides bug fixes, making it easier and more convenient than ever to create machine vision applications. The software will be available in a 64-bit version for the first time, enabling high-resolution, 64-bit applications that require more memory. The new MERLIC version will also be available in Spanish and Italian, in addition to the seven languages currently supported.

MERLIC Engine with new functions
An important new development is the enhancement of the MERLIC Engine, which was introduced in the preceding major release, MERLIC 2. In addition to generally improving performance, this approach makes it possible to import externally recorded images as input parameters and process them within the MERLIC Engine. "Our customers can look forward to an easier user experience when it comes to generating applications," says Thorsten Daus, Product Manager MERLIC at MVTec. "The enhancements of the MERLIC Engine will make the system's area of application even more flexible. System integrators and imaging specialists will thus be able to easily and quickly put together the machine vision applications they need without much programming knowledge. This is, of course, a key factor in saving costs."

First-class sales service for global markets
With MERLIC 2.1 going on sale in June, the launch of the innovative software will reach the next level: MERLIC will be available worldwide. To give customers the best possible support, all new MERLIC sales partners will receive targeted, professional training from MVTec, as in the case of the "MVTec MERLIC Days" training sessions being held in Munich and Bangkok. The successful MERLIC seminars in Taiwan, China, and Japan, with a total attendance of nearly 1,000 people, also underscore MVTec's increasing involvement in the Far East.

Gerhard Wagner, Head of Sales at MVTec, explains: "Against the background of our highly successful customer tours in Asia and Europe, as well as other planned sales training sessions, we look forward to expanding our sales network with the MERLIC 2.1 release. The demand for user-friendly, self-explanatory machine vision software exists not only in all industries but also in all industrialized and emerging markets. We welcome the challenge of offering first-class sales service to the global markets."

About MERLIC
MERLIC is an all-in-one software product for quickly building machine vision applications without any need for programming. It is based on MVTec's extensive machine vision expertise and combines reliable, fast performance with ease of use. An image-centered user interface and intuitive interaction concepts like "easyTouch" provide an efficient workflow, which leads to time and cost savings. MERLIC provides tools to design and build complete machine vision applications with a graphical user interface, integrated PLC communication and image acquisition based on industry standards. All standard machine vision tools such as calibration, alignment, measuring, counting, checking, reading, position determination, and defect detection are included in MERLIC.

About MVTec
MVTec is a leading manufacturer of standard software for machine vision. MVTec products are used in all demanding areas of imaging: Semi-conductor industry, web inspection, quality control and inspection applications in general, medicine, 3D vision, and surveillance. MVTec, with its head office in Munich (Germany), has more than 30 established distributors worldwide and in addition, MVTec, LLC works out of Boston, MA (USA).