MVTec Held HALCON 11 Training in Boston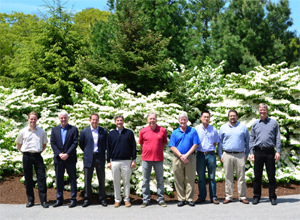 On May 17 and 18, MVTec, LLC, hosted a training event for its North American distributors in Boston. The American support center of German based MVTec Software GmbH, who manufactures standard machine vision software, presented new software technologies that MVTec will introduce into the market with the release of HALCON 11 in June 2012.
As one highlight, the sales engineers learned about HALCON?s new ?Sample-based Identification? (SBI). This unique technology opens up new opportunities for identification of objects by characteristic features like color or texture, eliminating the need to use bar codes or data codes for object identification purposes.
Furthermore, the participants were introduced to HALCON?s new technologies and enhancements for 3D vision like "3D Surface Comparison", registration and triangulation of point clouds, and improved ?Photometric stereo? tools for superior surface inspection capabilities.
HALCON 11 offers new image processing technology that will enable MVTec?s distribution partners to strengthen their customer base and enter new markets for machine vision. As one of the participants of the training put it: "The future is bright".
More information: www.halcon.com/version11/