MVTec Expands Marketing Activities in North America
MVTec Software GmbH, Munich, Germany, is pleased to welcome JMAK Automation as a new distributor for the US and Canada. Besides the distribution of HALCON and ActivVisionTools, JMAK Automation also provides high-level technical support for these software products.

JMAK was founded in 2005 to provide consulting and design services to the manufacturing industry with core expertise in motion control and CAD. In 2011, JMAK added extensive support for machine vision and imaging.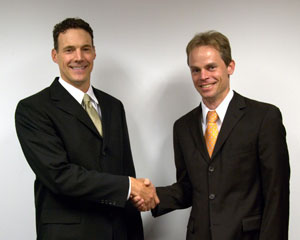 "JMAK chose to partner with MVTec to provide our customers with leading machine vision technology", declares Marty Karnacewicz, JMAK's Co-Founder and vice president of Sales. "JMAK has vast experience in the semiconductor and electronics industries. HALCON's library of core vision tools allows high tech OEMs and system integrators to build robust machine vision solutions. HALCON provides much more content and depth of groundbreaking 2D and 3D vision technology than other off-the-shelf machine vision software products we know."

HALCON is the comprehensive standard software for machine vision with an integrated development environment (IDE) that is used worldwide. HALCON's flexible architecture facilitates rapid development of machine vision, medical imaging, and image analysis applications. HALCON provides outstanding performance and a comprehensive support of multi-core platforms, MMX and SSE2, as well as GPU acceleration.

"JMAK's expertise in machine vision and thorough understanding of OEM customers' needs make them an ideal partner for MVTec", says Dr. Heiko Eisele, president of MVTec, LLC. "We look forward to working with JMAK to expand our market share in the semiconductor, electronics, and other important industries in North America."

About JMAK Automation
JMAK Automation specializes in serving OEMs and machine builders in the semiconductor, electronics, bioscience, and postal/document handling markets. Moreover, JMAK has extensive machine vision software experience.

About MVTec
MVTec is a leading manufacturer of standard software for machine vision. MVTec products are used in all demanding areas of imaging: Semiconductor industry, web inspection, quality control and inspection applications in general, medicine, and surveillance. MVTec has more than 30 established distributors, located throughout North and South America, Asia, Australia, and Europe. In addition, MVTec, LLC works out of Boston, MA (USA), to better attend the North American market since 2007.

Contact:
Dr. Lutz Kreutzer, Manager PR & Marketing | MVTec Software GmbH, Neherstr.1, D-81675 München Tel. +49 89 457695-0 | Fax +49 89 457695-55