MVTec Expands Marketing Activities in Australia
From June 2011, the distribution of MVTec machine vision software products in Australia and New Zealand is additionally performed by Adept Turnkey Pty Ltd. Besides the distribution of HALCON and ActivVisionTools, Adept also provides high-level technical support for these software products.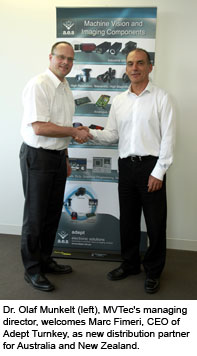 "As products that facilitate advanced vision solutions, MVTec's HALCON and ActivVisionTools are a very good fit to Adept's current software product offerings and for our customers", declares Marc Fimeri, Adept's CEO. "We are excited about the advanced tools, performance, and hardware independence HALCON provides and believe that the capabilities of the software will allow our customers to tackle vision applications in new and unique ways. Additionally, the software development environment is exceptional: It comes with extensive source code examples and a detailed documentation."

With HALCON 10, numerous worldwide novelties were offered to the machine vision community, such as enhanced speed (especially by HALCON's automatic operator parallelization and GPU acceleration), advanced developments in 3D vision, and new matching technologies in any dimension.

"Adept Turnkey Pty Ltd provides a powerful sales team which penetrates their market in an outstanding effective way", says Dr. Olaf Munkelt, MVTec's managing director. "More than that, Adept comes with a strong technical department and fully understands machine vision technology and industry. Thus, we are pleased to cooperate with such an established company and that we could argue Adept into our products and services."

About Adept Turnkey Pty Ltd
Adept Turnkey provides expert solutions with machine vision products to create vision systems that work. Adept offers a wide range of world class products, ranging from machine vision components to entire systems. The company offers advice on all aspects of their machine vision products, which includes lighting, optics, cameras, grabbers, software, and computers. Adept provides expert technical support for all of their machine vision products and systems. For more information refer to www.adept.net.au/.

About MVTec
MVTec is a leading manufacturer of standard software for machine vision. MVTec products are used in all demanding areas of imaging: Semiconductor industry, web inspection, quality control and inspection applications in general, medicine, and surveillance. MVTec has more than 30 established distributors, located throughout North- and South-America, Asia, Australia, and Europe. In addition, MVTec, LLC works out of Boston, MA (USA), to better attend the North-American market since 2007. For more information refer to www.mvtec.com.