mvBlueLYNX-X Starterkit – The all-inclusive package
v>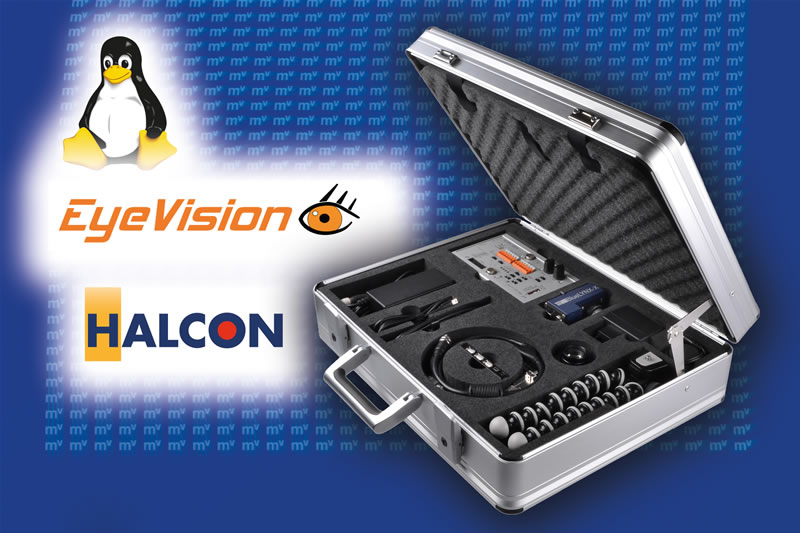 With this slogan MATRIX VISION offers the mvBlueLYNX-X smart camera in a complete package for a quick start. The case contains the camera, chosen from a pool of ten models, versatile accessories as well as software evaluation licenses for Halcon Embedded or EyeVision. For this attractive starter kit you only pay the price of the selected camera starting from 990 Euros, the rest comes free of charge.

The mvBlueLYNX-X smart camera with CMOS and CCD sensors and resolutions from VGA to 5 Mpix constitutes the main item. The camera features a 1 GHz Cortex-A8 ARM processor, a real-time DSP running at up to 800 MHz, 512 MB RAM and uses an embedded Linux-OS. This is sufficient to execute all image processing directly inside the camera, saving space and power "on site". Furthermore there are enough interfaces to guarantee optimum network integration and easy device integration. Accessories include lens, tripod, cables, USB hub, power supply, and an interface box.

The interface box is used for fast and uncomplicated process integration and features terminal strips for all digital inputs and outputs as well as LEDs. Different software libraries may be chosen according to individual needs. Beside MVTec's Halcon Embedded there are also software evaluation licenses for EyeVision from EVT. EyeVision offers function-based programming via drag and drop. Both libraries provide a multitude of functions for classical image processing tasks like pattern matching, QR code, DataMatrix, and Barcode reading, OCR, object detection, color recognition, error classification, etc.

This combination, with its flexible and high-performance hardware and software, will be delivered in an attractive case. The user does not have to go through the time-consuming process of selecting individual components. This offer is rounded off with free-of-charge group training courses of practical relevance in our headquarters in Germany.