MV1-L2048 Line Scan Camera Series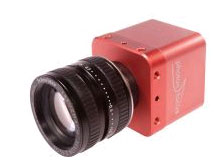 CMOS image sensors offer users the flexibility to arbitrarily configure Regions of Interest (ROI) in order to meet the specific requirements of their application. Configuring an ROI of one or two lines to produce a monochrome or color line scan output is one of the more popular implementations amongst Photonfocus machine vision customers. In addition to allowing the customer to arbitrarily position the line(s), they also benefit from a less expensive solution than a standard line scan camera.

Following numerous customer requests, Photonfocus has produced a new line of unique CMOS line scan cameras designed to specifically support a broader machine vision customer base. Based on the popular CMOSIS 2MPix CMOS image sensor which features high speeds and superior low light sensitivity, the new Photonfocus MV1-L2048(I/C) line scan camera series consists of 6 camera models in either monochrome, color or enhanced NIR sensitivity and a choice of the Camera Link Base MV1-L2048(I/C)-160-CL-10 or GigE Vision MV1-L2048(I/C)-96-G2-10 models. Photonfocus' superior image formatting and line buffering design produces impressive line rates of 27.3kHz for single line monochrome Camera Link, 25.4kHz for dual line color Camera Link and 20.4kHz for GigE models. These rival line rates only found in line scan cameras with a Camera Link Full interface.
The new Photonfocus Line Scan Camera Series is in stock and available for immediate delivery. Photonfocus and their extensive worldwide sales network are available to discuss your requirements, choose the right camera model and quickly help you benefit from using this product in your application.