MV1-D2048 Camera Series with 2 and 4MPix CMOSIS Sensors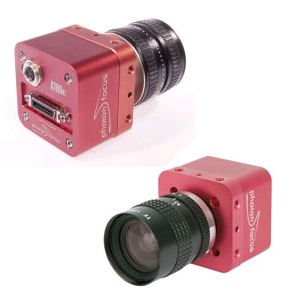 Extending our current line of high quality, high performance CMOS cameras, Photonfocus releases the new competitively priced 2 and 4MPix camera series based on the CMOSIS image sensors. Available with either Base Camera Link or GigE Vision interfaces, the 2MPix MV1-D2048x1088-160-CL-10 model has a suggested retail price of 1'221 EUR while the 4MPix MV1-D2048-160-CL-10 model is priced at 1'875 EUR.
The camera series features the low light sensitivity and excellent image quality of the CMOSIS sensor and is further enhanced by Photonfocus' highly optimized programming of the sensors' external timing. The 4MPix models feature only the latest V3 version of the CMOSIS CMV4000 sensor which has been updated to reduce black-sun effect. In addition to the standard Photonfocus camera features, the new camera series also includes a dynamic speed booster designed to maximize frame rates of smaller ROIs in the X direction.
Taking advantage of the 2MPix sensor's high-speed readout, Photonfocus has implemented a line scan mode which allows the Base Camera Link and GigE Vision versions of this camera to operate at line rates typically only realized in Full Camera Link cameras. In this mode the new 2MPix camera becomes a viable, low-cost solution for applications typically only realized with dedicated line scan cameras.
The 2MPix sensor will also be added to our popular DR1 double rate series further enhancing our offerings in the motion analysis markets. Upon request Photonfocus can also develop a 4MPix version of the DR1 with up to 45fps at full resolution over a GigE Vision interface.
In support of our Camera Link cameras Photonfocus also offers Base Camera Link repeaters and high quality cables for longer working distances.
In addition to the release of the new camera series we continue to promote our new installer. This new camera installer includes drivers and example programs for our 3D02 and 3D03 3D cameras with the Halcon11 software environment. These drivers and examples were developed in close partnership with MVtec and are MVtec approved.
If you would like to test one of the new cameras in your application with a loan camera or if you would like to purchase a camera please get in contact with one of the sales partners of Photonfocus in your region or send your request to us. Most of our products are also available as OEM modules or board level cameras. On demand we can also implement custom specific features in our cameras. OEM business has been our strength for more than 10 years!