MV1-D1600 Series Sensor-Based Cameras
rong>Photonfocus extends line of e2v sensor-based cameras with the new MV1-D1600 series

Photonfocus announces the release of their new MV1-D1600 cameras series based on the e2v EV76C570 1600x1200, 4.5µm pixel pitch image sensor. Available in monochrome or color, the MV1-D1600(C)-120-CL-10 features a Base Camera Link interface, and the MV1-D1600(C)-120-G2-10 features a GigE interface and are GigE Vision and GenICam compatible. All models operate at 60fps and up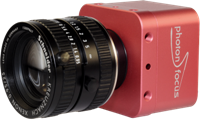 to 10 bits. The optical diagonal of the 2MP image sensor EV76C570 and the camera case are identical to the Photonfocus MV1-D1280 series, based on the e2v EV76C560 and EV76C661 1.3MP sensors which allows for an easy resolution upgrade.

The MV1-D1280 camera series is now available with monochrome, color and NIR image sensors. The e2v EV76C661 NIR CMOS sensor is implemented with deep depletion photodiodes and therefore has exceptional high quantum efficiency in the NIR region. The MV1-D1280(C/I)-120-CL-10 models features a dual-tap Base Camera Link interface. The MV1-D1280(C/I)-120-G2-10 models feature a GigE interface and are GigE-Vision and GenICam compatible.

Photonfocus has updated the PFInstaller to version 2.37. Support the -240 speed grade models of the 2MP and 4MP CMOSIS sensor cameras and new Halcon 10/11 examples for the laser triangulation 3D cameras have been added. 3D peak / dual-peak information, 2D information from line scan, width, quality parameters and the status line information are covered by different sample codes. These new examples are implemented in HDevelop, giving the customer access to the data without any further software development. The examples can be customized to interface all data into the software. The 3DSuite software was optimized for reduced memory usage and GigE link recovery. Additional frame grabber support is available for the 3D01 camera.

Photonfocus and their extensive worldwide sales network are available to discuss your requirements, choose the right camera model, choose the right software and quickly help you benefit from using these products in your application.