Multitenancy for B&R cloud application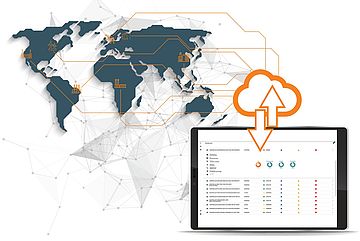 Asset Performance Monitor opens up new OEM business models
Manufacturing OEMs can now also provide data and results from Asset Performance Monitor to their customers, opening up new revenue streams. The cloud application also configures itself – regardless of the type and number of connected machines.
Asset Performance Monitor now automatically recognizes assigned edge devices and the corresponding machines. The application collects available data via OPC UA. Thanks to OPC UA semantic descriptions and industry-specific standards like PackML and EUROMAP 77, Asset Performance Monitor knows how to prepare the data. Without any configuration at all, the user can view dashboards, reports and alarm overviews. Even small and midsized OEMs now have access to comprehensive IoT solutions.
New business models for OEMs
B&R has made its Asset Performance Monitor multitenant. With the ability to process data from their machines and sell the resulting data back to their customers, OEMs can now implement new business models. The machine builder simply makes the corresponding settings in Asset Performance Monitor – no additional hardware or software is required.
Asset Performance Monitor
Around the clock and around the world, the Asset Performance Monitor cloud application collects data – such as performance metrics, energy consumption and production rates – and presents it in clearly structured reports and dashboards. This makes it possible to reduce unplanned downtime as well as to detect and prevent production bottlenecks. Asset Performance Monitor is based on a flexible IoT platform that enables it to be expanded quickly and easily.