Multi-sensor Camera Series Extended
Multi-sensor cameras by the German camera manufacturer VRmagic are now available with a high-resolution CCD sensor from Sony.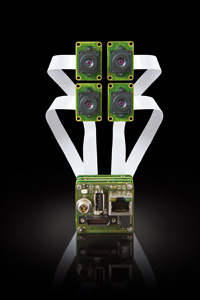 With the Sony ICX455 sensor used in the VRmS-14, VRmagic opens up news fields of applications for its multi-sensor camera series. Providing a resolution of 1.25 megapixels, the 1/3" sensor is ideal for use in more complex applications, which require high detail accuracy. The CCD sensor with interline transfer technology delivers up to 15 frames per second and is characterized by an increased sensitivity to infrared light. The sensor is available in monochrome and color.
Furthermore, multi-sensor cameras by VRmagic are now equipped with the MT9M001 CMOS sensor from Aptina. The 1/2" sensor integrated into the VRmS-9 can capture 17 frames per second at a resolution of 1288 x 1032 pixels and offers advantages such as low power consumption and high performance.
Multi-sensor cameras by VRmagic consist of a base unit, which can be equipped with up to four remote sensors. The sensors are connected with a flex-foil-cable and can be freely positioned. Data is transmitted via LVDS. This makes it possible to acquire pixel-synchronous images from different angles. The image data is coordinated on an FPGA module with 256 MB RAM. VRmagic offers multi-sensor cameras as USB versions and as Linux-based, intelligent models.
All intelligent cameras by VRmagic are equipped with the DaVinci processor from Texas Instruments, featuring a 300 MHz ARM9 processor running the Linux operating system, and a 600 MHz DSP with 4800 MIPs, which is entirely available for image processing tasks. The cameras are equipped with 256 MB RAM and a 512 MB flash module. The supported interfaces include Ethernet, USB 2.0 Host, RS232 and General Purpose I/O, Analog Video Output as well as an optional digital video output and audio interface.
About VRmagic
Headquartered in Mannheim, Germany, VRmagic develops, manufactures and sells cameras for industrial image processing, optical tracking systems and VR technology. A second business division specializes in simulators for medical training.