Multi-Contact Primary Circuit Connector RobiFix UL Recognized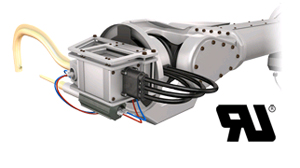 The latest primary circuit connector RobiFix by Multi-Contact has been UL recognized since January 2012. Particularly compact, energy efficient and user-friendly, RobiFix is one of only a few connectors for the automotive industry to fulfil the requirements for a UL-recognition. For further details please refer to UL file No. E351413.
RobiFix is suited for the use on all relevant robot interfaces as well as on manual and stationary welding guns and automatic tool-changers.