Multi-Contact New CombiTac module for data transfer
The modular connector system CombiTac by Multi-Contact has been enriched by a new optical fibre connector for data transfer.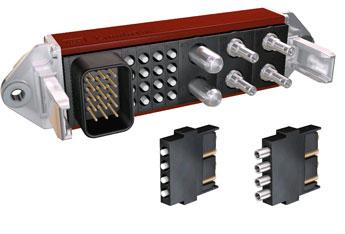 Glass Optical Fibre (GOF)
New 4-pole connector for Ø 3mm mono- or multi-mode optical fibre.
Fibre types:

Graded index fibre (GI): 50/125 and 62,5/125μm
Single mode fibre (SM: 9/125μm
Optical fibres are used wherever data transfer is required, e.g. in automated processes and machines, in medical technology (computer tomography), in the railway industry (control and passenger information systems), and in many other fields of application.