Multi-Contact Modular Power Connector MPC meets IP69K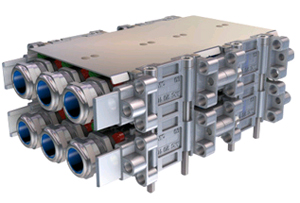 Multi-Contact's Modular Power Connector (MPC), specifically designed for the harsh environment of railway applications, now fulfils the highest protection class IP69K according to DIN 40050-9. It is thus suited for cleaning processes with high-pressure jets and at high temperatures. The MPC also fulfils protection classes IP66 and IP67.
The modular connector system has been developed for the transmission of power in the electric propulsion system of rolling stock. It is used for example to make electrical contact with the transformer, the traction motor or inverters and batteries, and to provide a power connection between the cars. Designed to withstand more than 500 mating cycles, and with rated values of 3600 V and up to 700 A it is also suited for many other demanding high-current and high-voltage applications. The MPC is, among other things, vibration- and shock-tested in accordance with EN 61373, and corrosion-resistant (240 h salt spray test) in accordance with EN 60068-2-11. For different contact diameters and cable cross sections from 10 up to 240 mm², several insulated bodies are available which are all compatible with each other. Up to 15 modules may be combined. An optonal coding prevents pole reversal.