MU9 Series Subminiature Board-Level Cameras
MU9 series industrial cameras offer high-quality monochrome and color 5 Mpix CMOS sensors, USB 2.0 interface, and APIs for more than 30 leading image processing libraries in both subminiature board-level and enclosed camera configurations.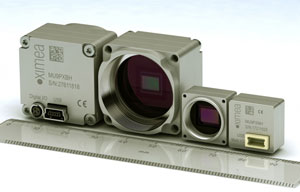 Designed for OEMs wanting to add industrial imaging functionality to highly integrated machinery with tight space requirements, XIMEA GmbH's MU9 compact industrial cameras offer high-resolution 5 Mpix CMOS sensors with global shutter, USB 2.0 data interface, and free application programming interfaces (APIs) for most commercial image processing systems in board-level and steel housing enclosures as small as 15 x 15 x 3 mm.
The MU9 subminiature industrial camera line includes four models, all shipping in quantity today. The MU9PC_MBRD and MU9PM_MBRD cameras are board-level color and grayscale cameras, respectively, based on the APTINA MT9P031 2592 x 1944-pixel CMOS sensor with global shutter. The MU9PC_MH and MU9PM_MH cameras also use the APTINA sensor in both color and grayscale configurations but include a steel housing that increases the dimensions of the camera from the 15 x 15 x 3 mm board-level camera size to 16 x 16 x 13 mm with M12 lens mount. All of the MU9 cameras offer ~70 db of dynamic range with a signal-to-noise ratio of ~38 db, 5 V USB 2.0 data interface, and 2IN/2OUT general-purpose input/output for camera control and triggering. Color cameras use an RGB Bayer Matrix filter.
Connecting the MU9 series cameras to industrial data processing systems, OEM equipment, and PCs is greatly simplified with the inclusion of APIs for the most common image processing software, including programs such as VisionPro, MIL, LabVIEW, MVTec's Halcon, Tordivel's Scorpion Vision Software, OpenCV, AForge.Net, and many more.
About XIMEA
XIMEA designs, customizes, and manufactures leading-edge cameras for customer and OEM applications in machine vision, motion control, assembly, robotics, industrial inspection, and process control, as well as high-quality CCD-based cameras for life-science, security, and defense applications. Our cameras are based on powerful, flexible camera technology platforms that include application programming interfaces (APIs) for more than 30 of the most common image processing libraries. Customers can further modify XIMEA cameras by selecting specialized optics and data interfaces, while OEM customers can leverage XIMEA's Custom Engineering services for highly optimized imaging solutions. Learn more about how how XIMEA can help keep you one step ahead at www.ximea.com.