MSC-EL mini-Slide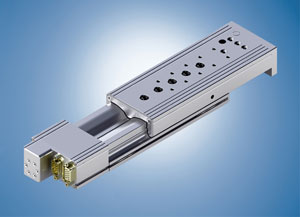 The new, ready-to-install MSC-EL mini-slide with integrated electrical drive from Rexroth dramatically reduces the time required to plan, install and start up customized handling systems. Ideal for small pick-and-place applications, the new MSC-EL was designed to offer proven Rexroth precision and performance in applications requiring multi-point positioning control in the same size package as the pneumatic MSC version.
Available initially in two sizes, the MSC-EL-12 and MSC-EL-16 can be ordered in standard lengths and are capable of travel to any position from 50 mm to 150 mm (size 12 = 80 mm). Each module has the same mounting and cross-section dimensions as the pneumatically driven MSC mini-slide. CamoLINE connectivity resulting from the Easy-2-Combine interface provides for quick connection without the need for auxiliary adapter plates and extensive adjustment.
A brushless, 24V DC motor efficiently powers the new MSC-EL. With an integrated belt drive gear as well as a ball screw assembly and ball rail system lubricated for life, the maintenance-free unit provides high performance within compact dimensions. The maximum load for size 12 is 4 kg for horizontal motion and 2.0 kg for vertical motion applications. The maximum load for size 16 is 5 kg for horizontal motion and 2.5 kg for vertical applications. An optional holding brake is available for vertical installation.
To save time and simplify start-up, basic axis-specific parameters have been pre-programmed in the sequence control system for the drive amplifier. Parameterization of up to 15 positions takes place conveniently via PC. With its precision ball screw drive, the mini-slide is able to achieve repeatable positioning of 0.01 mm and can be integrated into many automated structures with its digital I/Os. The drive controller also features a CANopen interface. Pre-assembled cable sets and standard electrical components reduce start-up time substantially.
The enclosed unit improves safety and cleanliness in the work area, which is particularly important for applications in the semiconductor, automation, automotive, medical equipment, and electronics industries. Easy attachment of Rexroth rotary modules and mechanical grippers allows for a wide range of handling tasks.
Bosch Rexroth AG is one of the world's leading specialists in the field of drive and control technologies. Under the brand name of Rexroth the company supplies more than 500,000 customers with tailored solutions for driving, controlling and moving. Bosch Rexroth is a partner for industrial applications and factory automation, mobile applications and renewable energy.
As The Drive & Control Company, Bosch Rexroth develops, produces and sells components and systems in more than 80 countries. In 2009 Bosch Rexroth, part of the Bosch Group, achieved sales of around $5.7 billion (4.1 billion Euro) with 34,200 employees.