MoviTHERM Signs UK Distributor for MIO Series I/O Module for FLIR Cameras
Thermal Vision Research brings award-winning MoviTHERM MIO Series to UK, instantly turning FLIR cameras into complete heat monitoring systems.
Specialist stockist of thermal imaging technology, Thermal Vision Research (TVR) has just signed the first UK distributor deal for the award-winning MoviTHERM MIO Series modules for FLIR cameras, with California-based thermography business MoviTHERM.
TVR saw an opportunity to introduce this new technology to the UK market, potentially saving FLIR camera users thousands of pounds on acquiring and maintaining complex supporting infrastructure.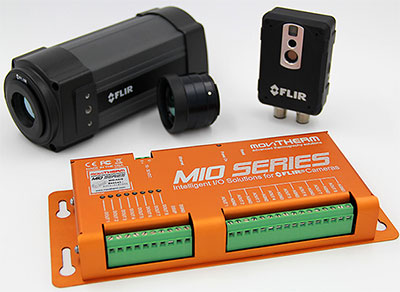 Launched in April 2016 and already the winner of the Innovators Award 2016*, the MoviTHERM MIO Series Intelligent I/O module turns FLIR cameras instantly into complete monitoring systems for fire detection. It's available in two modules, one for FLIR AX8 cameras and the other for FLIR A310f cameras both of which are used across a wide range of industry sectors throughout the UK.
Matthew Clavey, director of Thermal Vision Research, said:
"The MIO Series modules developed by MoviTHERM are a ground-breaking innovation for the thermal imaging industry. For the first time, thermal output can be monitored and warning triggers acted upon through a simple web-based interface – eliminating the need for a vast array of potentially unreliable supporting infrastructure."
"The two compatible cameras, the FLIR AX8 and FLIR A310f, are popular recommendations for use where there might be issues with overheating such as plant or server rooms, fire protection installations, warehouse management or even waste disposal sites. And then, the functions of the MIO Series are simply immense – from accessibility via a smart phone**, to connectivity across vast multi-camera networks. This really is a new opportunity and a bench mark in thermal imaging monitoring technology."
Each MIO Series module comes with eight digital alarm outputs and eight channels of 4 to 20mA outputs which can be assigned to any of the connected cameras. Up to seven cameras can be monitored through a single unit or the system can be scaled up for connection to over 100 cameras. Set up is straightforward using a built-in web-server and firmware can be upgraded when improvements are made using a simple download process.
MoviTHERM is now promoting the product at exhibitions in the US, but onsite demonstrations can be arranged in the UK.
*Vision Systems Design 2016 Innovators Program.
** Requires the addition of a FLIR NVR to the MoviTHERM MIO Series I/O module
About Thermal Vision Research
Thermal Vision Research Ltd is based in Bath, England and has over 10 years of experience in the thermal imaging market. It offers a full range of FLIR cameras and software enabling it to design bespoke solutions for its clients. From equipment and network set ups, to training and evaluation support, the Company prides itself on offering a personal service. It lists international blue chip companies, national organizations and many smaller developers, scientists and inventors in its portfolio.