MoviTHERM releases new Thermal Imaging Software IR-CAT
MoviTHERM – Advanced Thermography Solutions, Irvine, CA, USA has released a new Thermal Imaging Capture and Analysis Toolkit Software for FLIR Thermal Cameras.
IR-CAT offers a powerful set of features with a very intuitive user interface. The software tool is intended for research and development as well as for analyzing automated production processes, such as package sealing, hot glue, PID loop characterization, paper and plastic manufacturing, steel and many other applications where heat is a critical parameter. MoviTHERM's IR-CAT allows the user to perform statistical process analysis of their production process, research thermal behaviors of their newly developed products, characterize heat dissipation of electronic circuits and even perform thermal microscopy using special microscopic lens attachments for uncooled and cooled thermal cameras.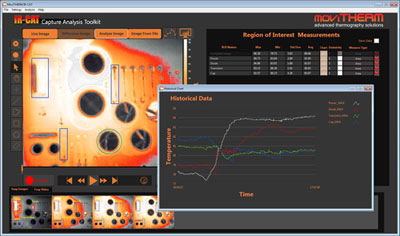 The thermal imaging software is also an invaluable tool for evaluating if a particular inspection task can be automated, using one of MoviTHERM's automated thermal inspection solutions. The captured data can be exported to MS Excel for further number crunching. IR-CAT offers real-time video sequence analysis and the built-in image extraction function lets the user pick the desired thermal images with a simple mouse click.
Screenshot: MoviTHERM IR-CAT Software analyzing an electronic circuit board. The historical data graph and the image thumbnails are showing the heat dissipation captured during the startup of the electronics.

The IR-CAT Software is compatible with the following FLIR Camera Models: FLIR A35, FLIR A65, FLIR A315, FLIR A615 as well as the FLIR A6601 and FLIR A6651. Support for any other GeniCAM compatible FLIR Camera can be added easily.
"IR-CAT combines video editing software with scientific thermal analysis in one powerful package." adds Markus Tarin, President & CEO at MoviTHERM.