MoviTHERM – Advanced Thermography Solutions receives the Innovators Award 2016
Irvine, CA, USA – MoviTHERM, an industry leader for thermal imaging products and solutions, announced today that its MIO Series Intelligent I/O modules for FLIR cameras has been recognized as an industry-best product in the Vision Systems Design 2016 Innovators Program. A panel of highly respected judges, consisting of experts from systems integrators and end-user companies, awarded MoviTHERM with a silver level award.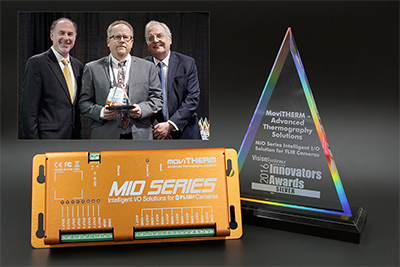 "Multi-camera thermal monitoring systems traditionally required a very complex and costly infrastructure to operate. This infrastructure typically consists of industrial PCs, monitoring software, digital and analog I/O all integrated into a large electrical cabinet. These systems are costly to acquire and to maintain. Relying on a standard PC architecture for a fire detection or critical vessel monitoring system is a risky proposition. Our MIO Series Intelligent I/O module addresses all these issues, "said Markus Tarin, President & CEO, MoviTHERM. "Being recognized as a top innovator in our industry is an absolute honor. It further underlines the performance, ingenuity and cost benefits that we deliver to our customers."
MoviTHERM's MIO Series Intelligent I/O module ("MIO") turns FLIR cameras instantly into a complete monitoring system. The MIO I/O modules eliminate the need for a PC, Software, programming or a complicated infrastructure.
There are two models of the MIO, one for FLIR AX8 cameras and one for FLIR A310(f) cameras. The MIO module has a built-in webserver that allows for easy configuration without the need for additional software. Each module comes with 8 digital alarm outputs and 8 Channels of 4 to 20mA outputs. These outputs can be assigned to any of the connected cameras. Once the MIO is connected to one or more cameras, it starts monitoring the camera's internal region of interest. Each MIO Series Intelligent I/O module supports up to seven FLIR cameras. Systems can be easily expanded by adding additional MIO modules.
"On behalf of the Vision Systems Design Innovator Awards 2016, I congratulate MoviTHERM on their silver award," said Vision Systems Design Editor in Chief, Andy Wilson.
About MoviTHERM – Advanced Thermography Solutions
MoviTHERM is an authorized FLIR Systems, Inc. distributor, integrator, solutions provider and product development company. The company offers thermal cameras and thermal imaging solutions for remote monitoring, automated imaging and non-destructive testing. Industries served are: Aerospace, General Manufacturing, Steel, Food, Agriculture, Oil & Gas, Automotive, Academia, Paper & Plastic and others.
About Vision Systems Design
Published since 1996, Vision Systems Design is a global resource for engineers, engineering managers and systems integrators that provides comprehensive global coverage of vision systems technologies, applications, and markets. Vision Systems Design's magazine, website, email newsletters and webcasts report on and analyze the latest technology and business developments and trends in the worldwide machine vision and image processing industry.
About The Vision Systems Design 2016 Innovators Awards program
The Vision Systems Design 2016 Innovators Awards program reviews and recognized the most innovative products and services in the vision and image processing industry. High-scoring companies were announced at The Vision Show held in Boston, MA, USA on May 3-5, 2016. Criteria used in the Innovators Awards ranking included: originality, innovation; impact on designers, systems integrators and end-users; fulfilling a need in the market that hasn't been addressed, leveraging a novel technology, and increasing productivity.