MotoSight 2D Vision-guided Robot Solutions; Ideal for Material Handling Applications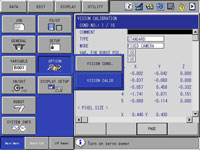 Friday, January 18, 2008 (Robotics Online ) – Utilizing MotoSight, Motoman robots have the capability to perform the most complex vision-guided applications, despite confusing backgrounds and/or parts that are randomly located. This application of vision-guided technology provides flexibility and cost savings to manufacturers by eliminating the need for positioning tooling or locating devices to repeatably position parts – as previously required for robotic applications.
Motoman's MotoSight 2D integrates the most powerful vision products available. By partnering with world-leading vision product providers, Motoman leverages the unrivaled expertise and experience of these companies along with our industry-leading robot performance, to provide unmatched, vision-based application solutions.
Motoman also offers a MotoSight 3D vision package that features an intuitive, easy-to-use operator interface and also offers customizable menus. This software enables customers to attack more complex vision applications requiring 3D part and position recognition. It supports fixed-mounted or arm-mounted, off-the-shelf cameras. The software supports multiple coordinate systems and provides statistical production data.
Motoman provides robots and complete robotic automation for virtually every application and industry. Founded in 1989, Motoman has continually gained market share and is now one of the largest robotic solution providers in North and South America with more than 28,000 robotic installations. Motoman's parent, Yaskawa Electric Corporation, is the world's leading robot manufacturer with an installed base of nearly 200,000 robots.
Motoman is a Platinum Member of Robotic Industries Association. For more information on Motoman products and services, call 937.847.6200, write to Motoman Inc., 805 Liberty Lane, West Carrollton, Ohio, USA 45449, or visit the corporate website at www.motoman.com

Source:
Motoman Inc.
Sally Fairchild
(937) 847-3202