Motor Controller for EtherNet/IP and Modbus/TCP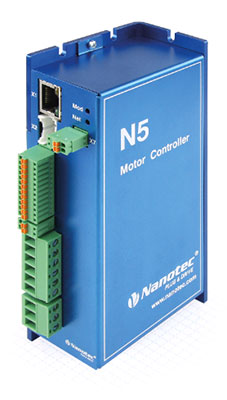 Feldkirchen/Germany – The N5 motor controller from Nanotec is now available in a new version with EtherNet/IP and Modbus/TCP fieldbus interfaces. Together with the existing CANopen and EtherCAT versions, Nanotec offers a family of motor controllers that can be connected to a wide variety of higher-level controllers. By using the N5 controller and field-oriented control (FOC), both BLDC and stepper motors can be operated in torque, speed, and positioning mode.
The N5 can be programmed using Nanotec's free software NanoJ V2, which allows for time-critical subroutines to be executed directly in the controller, independently from fieldbus communication. In complex applications with many controllers, this reduces the overall load on the fieldbus and keeps the required capacity down.
In the low current version, the N5 controller is designed for an operating voltage of 12–72 V, with a nominal current of 10 A. The high current version has an operating voltage from 12 to 48 V, with a nominal current of 10 A and a peak current of 54 A.
The N5 features six digital and two analog inputs, as well as two digital outputs and an input for a 5 V/24 V encoder. Hall sensors are an optional feature, and a holding brake can be added if required.
About Nanotec
Nanotec is a leading manufacturer of motors and controllers for high-quality drive solutions. The company has been developing and marketing a broad range of products since 1991. Nanotec technology is primarily used in automation systems, laboratory automation, and medical devices. Nanotec has its company headquarters in Feldkirchen near Munich, Germany, with subsidiaries in ChangZhou, China, and Stoneham/MA, USA.
Company Contact
Sigrid Scondo
Tel: +49 89 900 686-37