Motoman's New EasyPallet™ Pendant Easily and Quickly Creates Robot Palletizing Jobs
Dayton, Ohio — With as few as one to three menu or button selections, Motoman's new EasyPallet™ Pendant creates a suite of robot palletizing jobs that are full-featured with automatic vectoring to eliminate box clipping when building tight patterns, automatic asynchronous placement to save cycle time, user selectable job formats and unparalleled job customization. All within one to five minutes!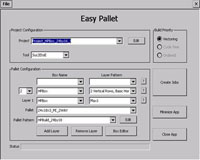 EasyPallet's more than 60 "canned" palletizing patterns are independent of box sizes. This allows a box size to be applied to any stacking pattern to create a unique layer configuration. Patterns adjust to changing box and pallet sizes, saving programming time. Layers can be stacked on top of one another, resulting in a column-stacked pallet or they can be rotated for an interlocked pallet. EasyPallet supports vacuum-style grippers capable of picking one to four boxes stacked end-to-end or side-to-side.

Users do not have to be experienced programmers to use EasyPallet. Patterns are viewable on the robot programming pendant. Common and high-frequency robotic palletizing tasks such as creating new boxes, changing tools, adding or subtracting layers, changing boxes on each layer and changing layer patterns are performed on the NX100 pendant user interface. A box editor on the pendant allows box size to be changed quickly and easily as production changes. EasyPallet is compatible with XML databases, which are created using an open standard, easy for people to read and understand, and easy to edit using freeware and other third-party editors.

For more information on EasyPallet Pendant, or other Motoman products and services, visit our corporate web site at www.motoman.com, call 937.847.6200, or write to Motoman Inc., 805 Liberty Lane, West Carrollton, Ohio, USA 45449.