Motoman's MotoSight 2D Pendant-Based Vision Solution: Ideal for 2D Robotic Vision Applications
MotoSight 2D, a powerful 2D vision application, easily adds vision to a Motoman robot. It features a Cognex In-Sight Micro camera and Motoman's Pendant Vision application software. Pendant Vision enables users to view images captured by the camera, as well as see information about camera status, including pass/fail, on-line status and the current vision program. Users can also change and select vision programs and view graphic overlays on the captured images. With MotoSight 2D, there is no reason to get your laptop out to train a new part; the training feature allows users to train a new part directly from the pendant. In addition, the vision system can be adjusted using a simple calibration target by placing it in the camera's field of view.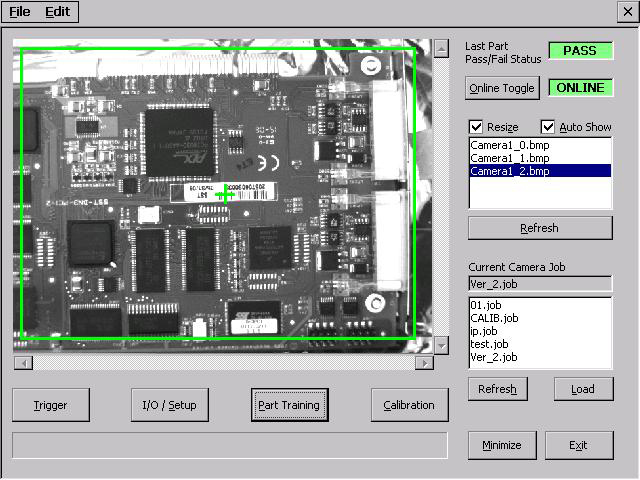 MotoSight 2D can be added to Motoman's DX100 and NX100 robot controllers. Motoman's recently introduced DX100 controller uses its vision function to integrate communication into the robot programming language. The NX100 controller uses an Ethernet I/P card to execute a communication sub-routine to extract the data from the camera. Base line programs are provided for both controllers to reduce the setup and configuration time of the system. The robot and camera programs can then be used to modify an application and customize individual solutions.
MotoSight 2D integrates the most powerful vision products available. By partnering with world-leading vision product providers, Motoman leverages the unrivaled expertise and experience of these companies, along with our industry-leading robot performance to provide unmatched, vision-based application solutions.
Motoman is a wholly owned subsidiary of Yasakawa Electric Corporation, a worldwide leader in mechatronics and robots. We provide world-class robotic automation solutions for a wide variety of applications including arc and spot welding, assembly, coating, dispensing, material cutting, material removal, picking, packaging, palletizing, machine tending, press tending and other general material handling applications.
Source:
Motoman Inc.
Sally Fairchild
(937) 847-3202